HafH Fukuoka THE LIFE ~:GRAND OPEN:~ February 1st, 2020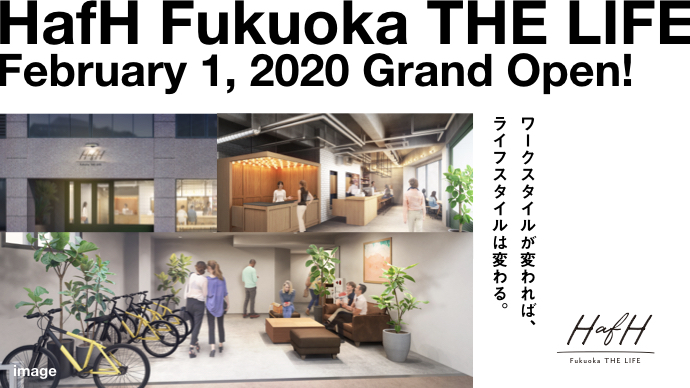 On Feb 1st we will be holding an opening ceremony, plus other special events throughout the month of February!
KabuK Style Inc. (the company operating the global subscription coliving service "HafH") will open its Kyushu flagship coliving facility HafH Fukuoka THE LIFE on Feb 1st, 2020. There will be an opening ceremony held on February 1st 2020, as well as a range of events throughout the month of February.
Contents:
HafH Fukuoka THE LIFE – Grand Opening! Feb 1st, 2020
Social Marathon in Hakata – among other events happening throughout February

1. HafH Fukuoka THE LIFE – Grand Opening!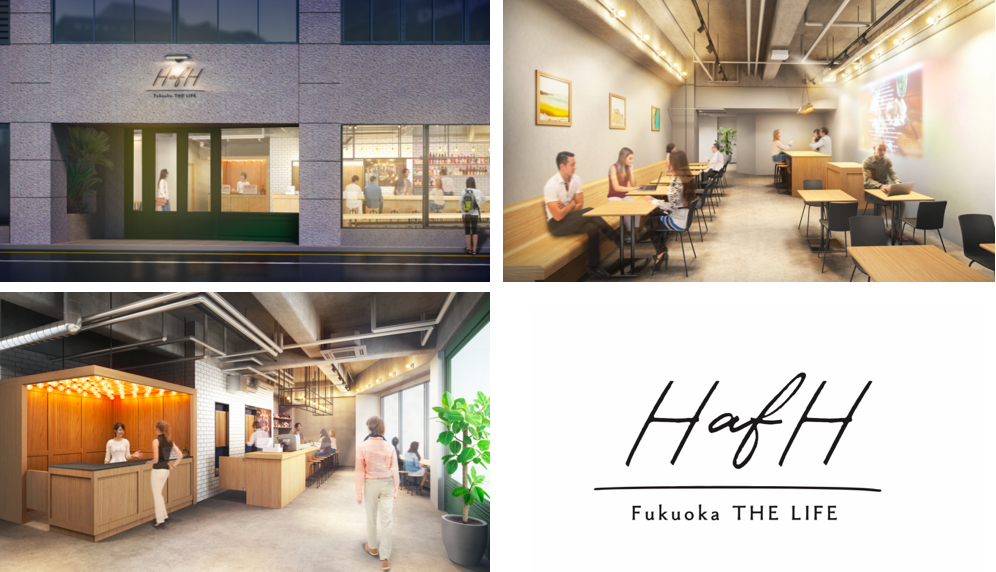 Concept: A place where people from all walks of "LIFE" can meet and interact
There is no problem with diversity in opinions. Nor in diversity in life styles and work styles. Diversity when it comes to nationality, gender, family environment, sexual preference, religion, etc. is good. We want people from all walks of life to stop in.
A great place to work from for those needing a bit of a change, or for those just passing by. Perfect for those intending to visit and explore Fukuoka, and also for those passing through on their way to other destinations on the island of Kyushu or on to other countries in Asia. It's even a great place for those traveling around without any particular aim or goal.
We want to create the kind of environment where people feel welcome; the kind of place that makes you want to say "I'm home!" Our goal is to make a place where all sorts of people can mix and interact, want to visit over and over, feel nostalgic yet still have that sense of something new, feel relaxed and comfortable yet still feel a sense of excitement and inspiration.
In short, we hope that THE LIFE will become a hub for those heading to other places in Kyushu or overseas (or those coming into Japan) – in an airport lounge kind of way.
■About the facility
Located in the heart of Fukuoka City (the biggest city on Japan's third largest island, Kyushu) and within walking distance of Hakata Station, Tenjin and Nakasu areas. We are also located right next to Canal City, a large shopping complex, and a popular Finnish style sauna called Wellbe Hakata.
By 2022, the entrance to a new subway station will also be located right next door.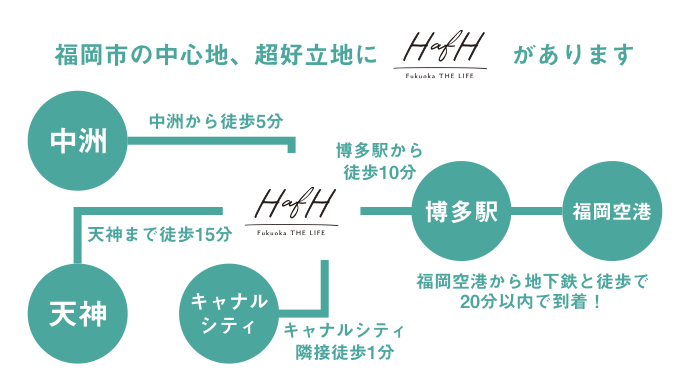 Perfect for those traveling in a group with family or friends. Up to 6 people can stay in the same room at a time. The upgraded facility will now also feature a terrace and bicycle rental.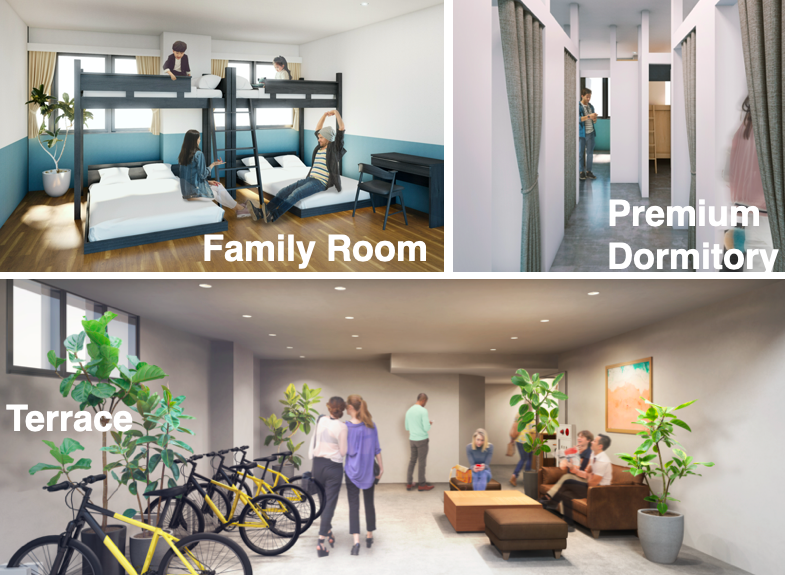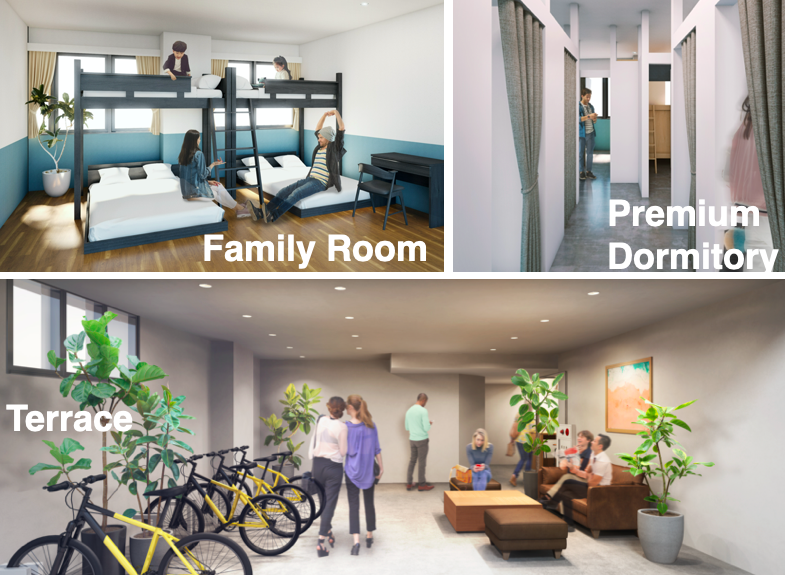 ■Rent-a-cycles will also be available at THE LIFE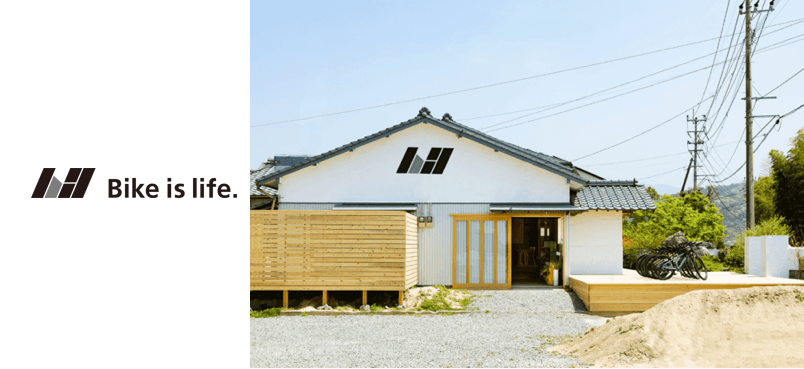 "Bike is life" is a local bicycle store in Asakura City, Fukuoka. We've teamed up with Bike is life to provide a rent-a-cycle service at the entrance to our new facility in the hopes Neighbors will jump on a bike and really explore Fukuoka.
Use the following links to make a booking at HafH Fukuoka THE LIFE:
Link – https://hafh.com/properties/49
2. Social Marathon in Hakata – among other events happening throughout February
Starting with the grand opening of HafH Fukuoka THE LIFE on Feb 1st, we will be holding a series of events through February. We also welcome any media presence at each of the events. While anyone is welcome come along to our Grand Opening Ceremony, many of those present will be connected to the company, and the Co-CEOs will also be talking about the future direction of the company. We welcome all to come along and join us for the special occasion!
■HafH Fukuoka THE LIFE Opening Ceremony (Feb 1st (Sat) )

The grand opening ceremony of HafH Fukuoka THE LIFE will consist of a special talk session, an introduction of our new staff, and details about our crowdfunding campaign.
Chief Editor of Address Hopper Inc. CEO HOPPING MAGAZINE Shotaro Ichihashi, president & CEO of IPPEI Holdings Koji Muraoka, and KabuK Style Co-CEOs KJ Sunada and Ryo Osera will be among the speakers at the opening ceremony.

Party admission fee
Entry: Free – drinks and hors d'œuvres included

Event schedule:
18:30 Start
19:00 Toast – serving of hors d'œuvres
19:10 Words from our CEOs
    -New staff intro
    – Info on our crowdfunding campaign
19:30 Talk session
20:20 Free time
21:50 Closing words
22:00 Event end
■ VIP Guests!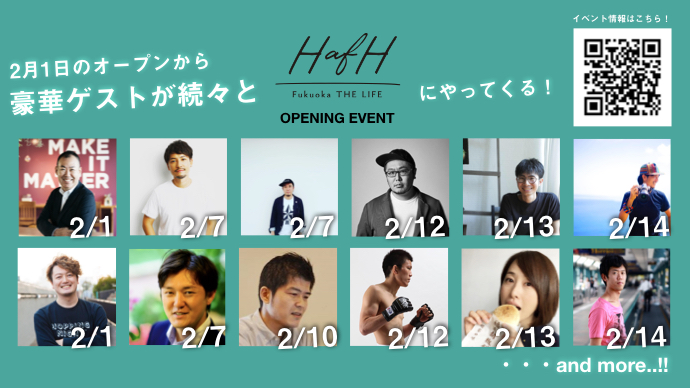 ■HAKATA CIALTHON (SOCIAL MARATHON)
February 8th – Explore Fukuoka City Walk'n'Run! (Original T-shirt Included) A social marathon, giving you the opportunity to get to know the city built on person to person connections.
(A HafH x Hakata Social event)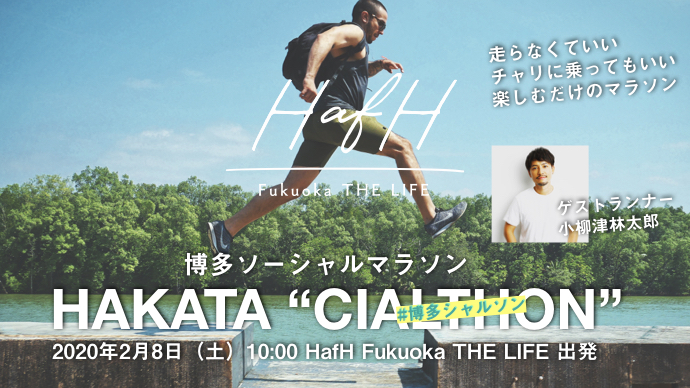 Walk, run, ride a bicycle, take the subway – it's completely up to you! The main goal is about enjoying the city in a more social way! The only rules for the social marathon are the start point and the end point. Everything else is up to you – explore restaurants and bars, cafes, guesthouses, gyms, etc. Those participating will be given an original t-shirt to wear, so if you pass by another social athlete, give them a high five or share a drink together!
https://app.kinchaku.com/event/hafh-8d9b59b9
Come and visit us at HafH Fukuoka THE LIFE!