News
2019.10.24
A guesthouse with its own onsen hot spring! Plus 15 new locations added to the HafH Network (Nov, 2019)
Neighbors (members) using our fixed-price all-you-can-stay service now have access to 138 locations across 16 countries and regions!!
KabuK Style Inc. (Co-CEOs KJ and Ryo), the company that operates the fixed price all-you-can-stay service called HafH (pronounced huff), will increased its network to 138 locations across 16 countries and regions for November. (You can start making bookings for the new locations from today – October 24, 2019!)
We aim to reach our goal of having locations in 50+ overseas towns and cities within the 2019-2020 financial year!
The latest additions to the HafH Network are in the following regions:
Japan (12 new locations in): Fukushima, Yamagata, Tokyo, Saitama,
Gifu, Osaka, Mie, Hiroshima, Chiba
International (3 new locations in): Malaysia, Georgia, Taiwan
●Introducing the latest additions to the HafH Network
◯ Welcome to Georgia! HafH now has a location in on of the oldest wine
regions in the world – Georgia! We've also added locations in popular
areas of Malaysia and Taiwan!

What are you waiting for? Start traveling today!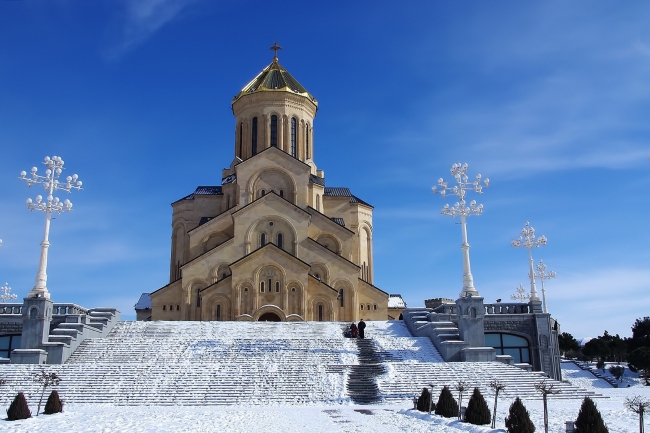 Pictured: a church in Georgia
Kakashi House (Tbilisi, Georgia)

Once upon a time, Georgia was the hub of the Silk Road where European and Asian people and culture would cross paths and intertwine. One of the best ways to enjoy traveling here is to share your culture with the Georgian people who respect other cultures (while drinking delicious Georgian wine, of course)!
See Kakashi House official Website here
Yote 28 (Malacca, Malaysia)

We're located in the heart of Malacca, in the arcade area on the shopping mall side. The inside of the hostel has a cute design, and the first floor of the guesthouse has a café space, shared kitchen, and a recreation room with video games.
See Yote 28 official website here
Paper Plane Hostel (Kaohsiung, Taiwan)

Paper Plane Hostel is located in the Sanmin District of Kaohsiung, and only a 1 min walk from the nearest metro station. The location is perfect for travelers who are interested in night markets, tourist attractions and a fantastic assortment of street food. All-you-can-drink soft drinks are available in the kitchen, and the guesthouse provides one electronic cabinet locker for every bed.
See Paper Plane Hostel official website here
◯ Kozushima Island has been a hot topic in Japan recently!
Come and stay at HafH on laid-back Kozushima Island and take a break
from the hustle and bustle of the city!
(Pictured: Shimayado Hamanoya)
Shimayado Hamanoya (Kozushima, Tokyo)

Hamanoya has a comfortable open area that's perfect for you to settle in and do some work (our resident kitty might come up and snuggle with you too).
Used as the backdrop of a recent hit anime film in Japan, Kozushima Island has more than just gorgeous ocean views, with plenty of outdoor activities, like trekking, etc. on offer too!
See Shimayado Hamanoya official website here
◯ In Japan, when you think of winter, you think of onsen (hot springs)! A
unique accommodation facility in Japan's northern Tohoku area has
joined the HafH Network!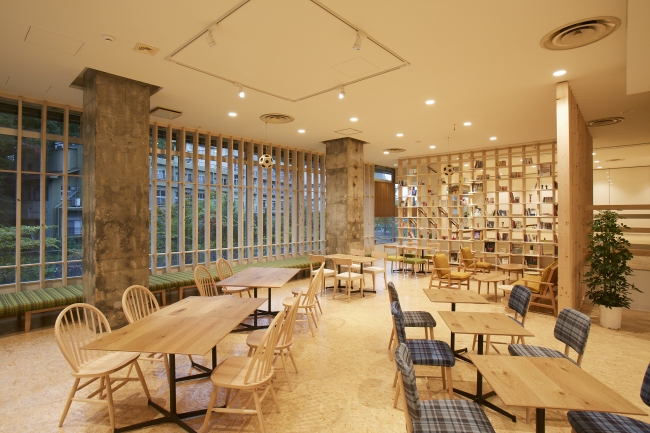 (Pictured: YUMORI ONSEN HOSTEL)
YUMORI ONSEN HOSTEL (Tsuchiyu Onsen)

Yumori is a refurbished ryokan (Japanese style hotel) in the historic hot spring health resort area of Tsuchiyu Onsen. The peace and quiet of the mountains offers the perfect environment to work in, and in between working you can relax your mind and body in the hostel's hot springs. Yumori is certain to leave you wanting to extend your stay here.
See Yumori Onsen Hostel official website here
Glampic (Yamagata City, Yamagata)

At night, look up and enjoy the clear starry skies. In the morning, start your day with a nice breakfast. The stylish living room and café space here were actually a DIY project!
Oh! And there's also Daikichi, the friendly and energetic shiba inu!
See Glampic official website here
◯ Easy to get to locations from Tokyo! Why not stretch your legs and take a
couple of days away from the busy city center!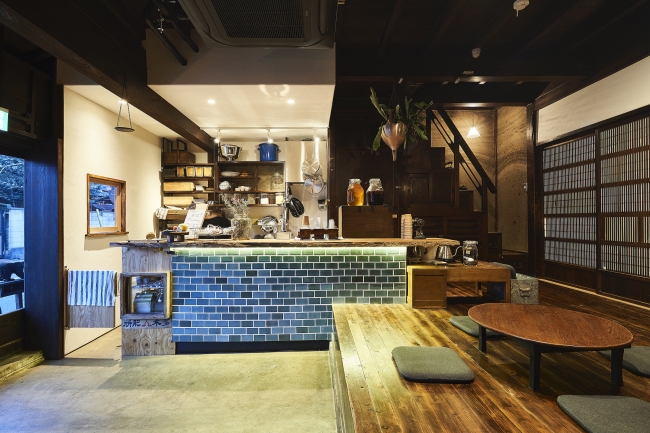 (Pictured: Chabudai Guesthouse, Café & Bar)
Chabudai Guesthouse, Café & Bar (Kawagoe, Saitama)

A day trip out from Tokyo is just not enough time to experience everything we have here! If you stay overnight here in Kawagoe you can truly experience the charm of the town. Have a wonderful time sitting around the tea table and have a chat with the town locals.
See Chabudai Guesthouse official website here
Voido (Futtsu City, Chiba)

This is an accommodation facility with a work space created for development and management camps. Located in Kanaya, Futtsu City, a popular destination for traveling freelancers, you can enjoy climbing the famous Mt. Nokogiri.
See Voido official website here
tu.ne.Hostel (Tateyama, Chiba)

Tu.Ne.Hostel was opened in June 2019 in Tateyama. This 1980s doctor's residence and clinic has been completely refurbished and converted into a hostel with 4 bedrooms and 18 beds (only adult-age guests are able to stay). Tu.Ne.Hostel features a shared living area and kitchen, a shared bathroom, a garden and a rooftop terrace, and the entire property is non-smoking. Free Wi-Fi available.
See tu.ne.Hostel official website here
◯Mie Prefecture has been added to our location list in western Japan! The
newly joined accommodation is located near a train station making it
easy to get to.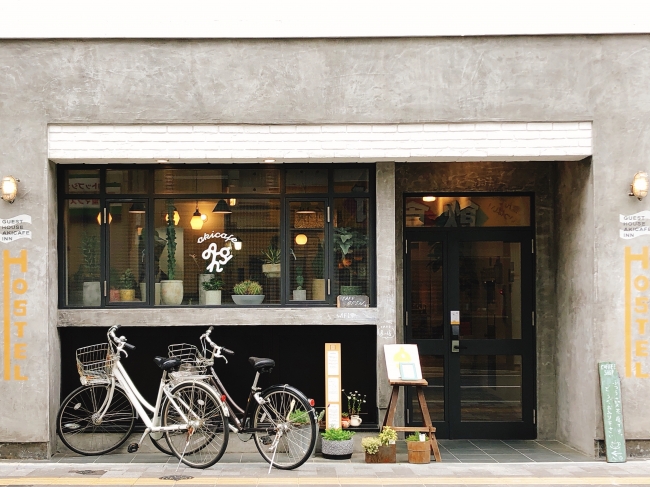 (Pictured: Guesthouse Akicafe Inn)
Osaka Guesthouse HIVE (Fukushima, Osaka)

The downtown area of northern Osaka City and the party town area of Fukushima district are both within walking distance. Central Osaka and the Rokko Gardens with its incredible night view over Kobe City are both near by.
See Osaka Guesthouse HIVE official website here
LODGER Hostel & Restaurant (Matsusaka City, Mie)

This guesthouse apparently sits on what was once the site of an old accommodation called Minoya, where samurai and delegates of the Shogunate used to stay when visiting Ise. The café on the ground floor is famous among the locals for its great food and specialty coffee.
See LODGER Hostel & Restaurant official website here
Guesthouse Akicafe Inn (Hiroshima City, Hiroshima)

Super conveniently located! Only 3 mins walk from Hiroshima Station. For those staying with us at Akicafé Inn, the coworking space on the ground floor is available 24/7, so you can work at your own pace. The bar/café is open to both guests and locals to enjoy our additive-free homemade food.
See Guesthouse Akicafe Inn official website here
◯ The ever popular Hida area. Stay with HafH and explore this scenic area
that's particularly picturesque in winter.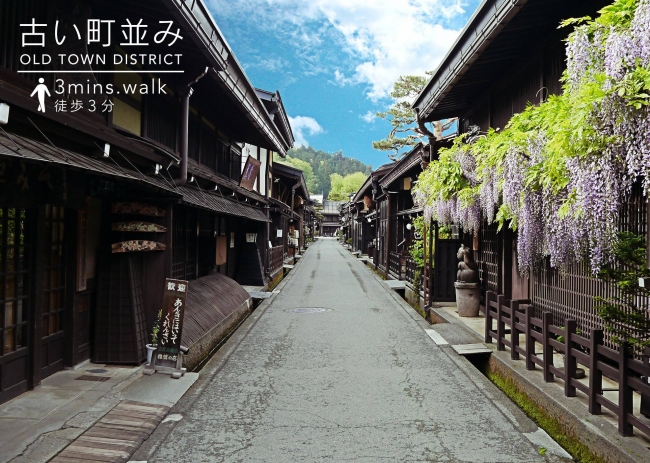 (Pictured: The old town at Hida Takayama
Cup of Tea (Takayama, Gifu)

Our staff know all about the Takayama and are more than happy to share that information with you! Get local insight and experience the best local cuisine and activities that Takayama has to offer.
See Cup of Tea official website here
Hida Takayama Guesthouse Tau (Takayama, Gifu)

Luke, the manager cat of this warm and friendly guesthouse will come out to welcome your arrival. It's easy to make friends here, and Takayama is the perfect place to take a stroll around town with your new-found friends!
See Guesthouse Tau official website here
Yamanami (Hida Furukawa, Gifu)

Travelers from all over the world come to visit Furukawa-cho in Hida City for its incredibly scenery. Here at Yamanami, we really value the relationship we make with travelers. We want to make sure you have a truly wonderful trip.
See Yamanami official Facebook page here
▼Regions and countries you can use the HafH Network as of October 24, 2019.
[Domestic]
Hokkaido, Iwate, Miyagi, Akita, Fukushima, Yamagata, Saitama, Chiba, Tokyo, Kanagawa, Niigata, Toyama, Ishikawa, Fukui, Yamanashi, Nagano, Gifu, Shizuoka, Aichi, Mie, Shiga, Kyoto, Osaka, Hyogo, Nara, Wakayama, Tottori, Shimane, Okayama, Hiroshima, Yamaguchi, Tokushima, Ehime, Kochi, Fukuoka, Saga, Nagasaki, Kumamoto, Oita, Miyazaki, Kagoshima, Okinawa
[Overseas]
Australia, Indonesia, Thailand, Taiwan, Malaysia, Vietnam, Philippines, Myanmar, Kenya, Tanzania, Greece, Peru, Guatemala, Mexico, Georgia
●Check out the full HafH Network here
No matter where you're from, or who you are, the incredibly friendly staff at all of our HafH locations are looking forward to having you stay!

View the latest HafH news here
For media enquiries regarding this press release, please contact us via the details below:
KabuK Style Inc.
PR Managaers: Yamamura / Tamaru
TEL: 03-5413-3398
Email: pr@kabuk.com
●Please send enquiries by email.