News
2019.06.27
The HafH Network, offering an "all-you-can-stay for a flat rate" service, now has an added 22 new locations in Japan and overseas!
Why not try the "travel as you work" lifestyle with HafH on your next holiday!
KabuK Style, Inc. (run by Co-CEOs KJ Sunada and Ryo Osera) runs an "all you can stay for a flat rate service" guesthouse and co-living space network called HafH (an acronym for Home away from Home). As of this month, the HafH Network has now increased by 22 newly added locations! HafH members (known as HafH Neighbors) now have access to 82 locations in Japan and overseas! We plan on announcing even more new locations in the coming months, so stay tuned!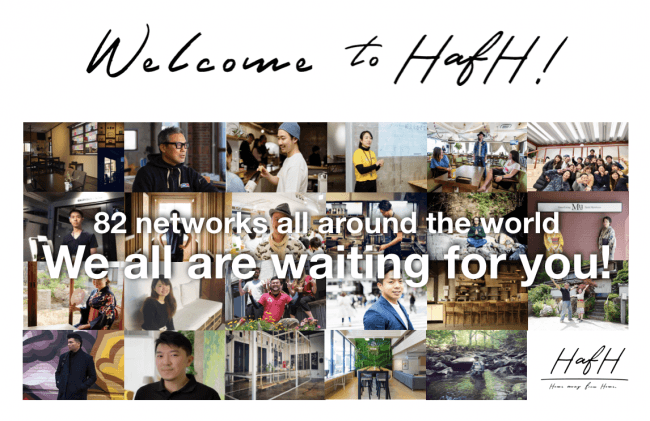 Here's where the latest additions to the HafH Network family are:
【JAPAN】IWATE・AKITA・FUKUSHIMA・TOKYO・ISHIKAWA・YAMANASHI・NAGANO・SHIGA・KYOTO・WAKAYAMA・SHIMANE・FUKUOKA・NAGASAKI

【OVERSEAS】THAILAND・TAIWAN・MALAYSIA
As of June 26, 2019, HafH has increased its network to 82 locations in total!
 In all, we currently have locations in the following Japanese prefectures, and countries!

【JAPAN】HOKKAIDO・IWATE・AKITA・MIYAGI・FUKUSHIMA・CHIBA・TOKYO・KANAGAWA・NIIGATA・TOYAMA・ISHIKAWA・FUKUI・YAMANASHI・NAGANO・GIFU・AICHI・SHIGA・OSAKA・KYOTO・NARA・WAKAYAMA・YAMAGUCHI・OKAYAMA・HIROSHIMA・SHIMANE・TOKUSHIMA・EHIME・FUKUOKA・SAGA・NAGASAKI・KUMAMOTO・OITA・MIYAZAKI・OKINAWA

【OVERSEAS】THAILAND・TAIWAN・MALAYSIA・VIETNAM・PHILIPPINES・KENYA・GREECE
More information on each guesthouse, co-living space and co-working space in the HafH Network can be found here:
Escape the summer heat in the Tohoku region of Japan!
The HafH Network has now expanded into the Tohoku region in Japan's north!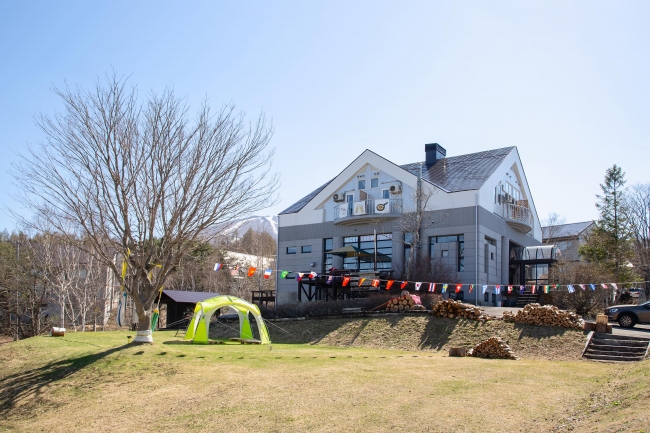 Pictured: Appi Rocky Inn (Appi, Iwate Prefecture) 
Hostel & Bar CAMOSIBA(Yokote, Akita Prefecture)
Yokote in Akita Prefecture is known as being a town full of old Japanese-style warehouses. We renovated an old style tea house with warehouse into a Bar and Guesthouse. The old warehouse part has been transformed into a bar where the owner, who continues a more than 100 year old koji or malted rice tradition, whips up delicious fermented food cuisine. There's also a range of local saké and foreign beers to choose from!
The main building, that has been renovated into clean and comfy guest rooms, still maintains its traditional old school Japanese charm. Our guesthouse is particularly popular with overseas visitors. We are conveniently located just 2 mins walk from Jumonji Station, and are a great place to use as a base for your travels in Akita Prefecture!
LODGE TANDEM (Hachimantai, Iwate Prefecture)
LODGE TANDEM is a cottage surrounded by the natural beauty of the Appi Plateau, in Iwate Prefecture. A river flows right outside of the lounge area, and the calming sound is perfect for relaxing or to concentrate on some work.
LODGE TANDEM also offers outdoor activities through TANDEM ADVENTURE FIELD. There's a lot of fun things to do here throughout the year, like snowshoeing in winter or, from summer 2019, 4-wheeling adventures in our new buggies!
Come and enjoy outdoor activities in the beautiful wilds of the Appi Plateau with us!
Appi Rocky Inn(Appi, Iwate Prefecture)
https://m.facebook.com/appirockyinn/
Appi Rocky Inn is a "beer lodge" where you can enjoy craft beers and BBQs!
Occasionally holding live jazz performances, the beer hall style lounge also transforms into a co-working space.
Feel free to kick back and chill around the firepit, bar counter, split-level floors or out in the garden. Sitting outside with a beer and BBQ while feeling the refreshing breeze up here on the plateau is incredible!
Skiing, snowboarding, tennis, golf, mountain biking and hot springs are some of the many activities available in the area!
Odaka Pioneer Village(Minami-Soma, Fukushima Prefecture) 
While still being located at a safe distance, Odaka Pioneer Village is the closest coliving space to the Fukushima Nuclear Power Plant!
See for yourself the reconstruction efforts still underway from the aftermath of the 2011 earthquake/tsunami affected area of Fukushima! 
Odaka Pioneer Village is a beautiful space newly opened in 2019. There are plenty of activities in the area too, including surfing and horse riding. 
●The place to travel as you work: KYUSHU」
We strengthened out network in one of the greatest areas to live or travel, Kyushu!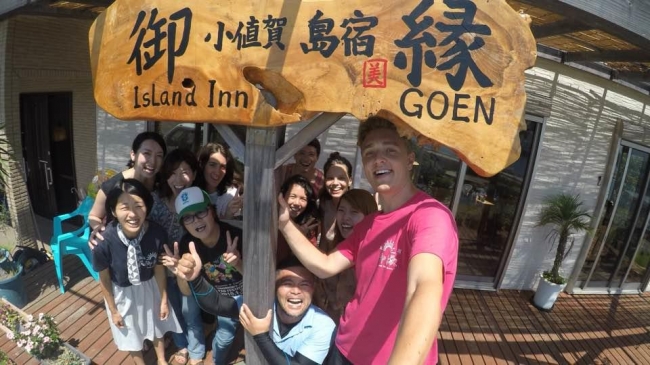 Pictured: Island Inn GOEN(Ojika Island, Nagasaki Prefecture)
Island Inn GOEN (Ojika Island, Nagasaki Prefecture)
A Japanese inn-style guesthouse where you will be warmly greeted by the friendliest owner, his family, and travelers from all over the world.
GOEN is located on Ojika Island; a magical paradise surrounded by picturesque blue waters and clear blue skies.
Here, the staff really value human connection and will show you true omotenashi (Japanese hospitality). There's no doubt you'll leave Ojika having made a bunch of new friends!
There are also tonnes of fun activities available on Ojika, from excursions to World Heritage listed sites, cultural exchange activities, cycling and, of course, beaches!!
Guesthouse LAMP (Iki Island, Nagasaki Prefecture)
https://lamp-guesthouse.com/iki/
A historical Japanese-style hotel that has been renovated into a stylish guesthouse.
Iki is a charming island surrounded by beautiful sea and a great place to enjoy clear starry skies. Said to be the birthplace of Shinto, there are more than 150 registered shrines on the island! Also a great place to enjoy various activities like swimming at our fantastic beaches, fishing, marine sports, and many spiritual power spots
A nearby restaurant offers delicious meals using fresh seafood and the best local ingredients!
Yukinoura Guesthouse Moritaya (Saikai City, Nagasaki Prefecture)
https://yukinoura.net/moritaya/
A guesthouse loved by travelers and frequented by the Yukinoura locals as well! Staying at tranquil Moritaya will allow you to take a moment to relax and unwind.
Formerly a traditional Japanese house and transformed into a warm and welcoming guesthouse, Moritaya harmonizes with the surrounding natural beauty of Yukinoura. Mountains, beaches, rivers, waterfalls and more make this area a nature lover's paradise.
Guesthouse Moritaya is perfect for cyclists or those looking for scenic drives, as the roads that run along the coast here have incredible sunset views.
Asobigokoro Dazaifu (Fukuoka) 
http://www.aso.ne.jp/asobi-gokoro/dazaifu/
Located within a short walking distance, we are the closest guesthouse to the famous Dazaifu Shrine in Fukuoka! Of course, that means there are plenty of local restaurants, cafes, variety stores (from souvenirs to local products) and more in the neighborhood! We've created a homey feel at our guesthouse, and strive to offer the best local hospitality. 
Guest House LAMP Bungo Ohno (Bungo Ohno, Oita Prefecture) 
https://lamp-guesthouse.com/bungoohno/
A closed-down school that has been renovated and repurposed into a cosy mountain lodge.
Set in the pristine forests of a UNESCO Eco Park near Mt Sobo, it's the perfect place for activities like mountain climbing and camping. After a day of taking in the fresh mountain air, why not try our delicious wild-game cuisine!
Our network has expanded with 3 new locations in Wakayama Prefecture, where the term workation (work+vacation) is booming right now!
Experience the travel as you work lifestyle from the Kansai Area!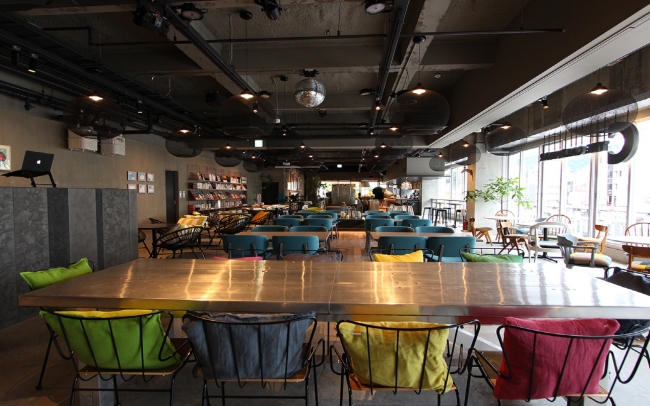 Pictured: CALENDAR HOTEL (Ohtsu, Shiga Prefecture)
Guest Living Mu Nanki Shirahama (Shirahama, Wakayama Prefecture) 
Roomy living space, working space and natural hot spring!
The "workation" (work+vacation) boom is happening right now in Wakayama Prefecture powered by the local government, and if you didn't know, Wakayama is famous its stunning beaches and hot springs!
Workation here with fantastic Nanki-Shirahama Beach views!
the CUE – hoso back yard house – (Tanabe, Wakayama Prefecture)
https://www.facebook.com/theCUEtanabe/
Private room-type guesthouse that has been renovated from an old-fashioned Japanese house. It is also fun to interact with other guests who are often climbing the Kumano-Kodo. We also have a bar inside the guesthouse where friendly locals love to gather. Our genuine game meat burger is highly recommended!
Why Kumano Hostel & Cafe Bar(Nachikatsuura, Wakayama) 
https://www.booking.com/hotel/jp/why-kumano.ja.html
Newly opened dorm-style guesthouse! Great entry point for those taking the Kumano-Kodo Trail.
The owner, Gorochan, has a deep knowledge of the area. Try his specialty coffee and feel free to ask him for local tips, pointers or just have a friendly conversation with him.
Experience the real charm of Wakayama!
Saikaan (Maizuru,  Kyoto) 
SAIKAAN is a guesthouse built from a refurbished 130-year-old traditional building and is located in the picturesque town of Nishi-Maizuru.We hope you enjoy the historic charm of our beautiful guesthouse.
CALENDAR HOTEL (Ohtsu, Shiga Prefecture)
https://www.the-calendar.jp/hotel.php
Calendar Hotel is located directly in front of Otsu Station in Shiga, and only two stations and 9 mins away from Kyoto Station. Great access to Kyoto, Shiga, and the Kansai area!
Our capsule-style beds are roomy and comfortable, and our restaurant and bar are open until 4 am. Calendar Hotel is perfect for both business and leisure travelers.
Of course, access from Tokyo is super important as well! HafH has also expanded its network into the surrounding Kanto region!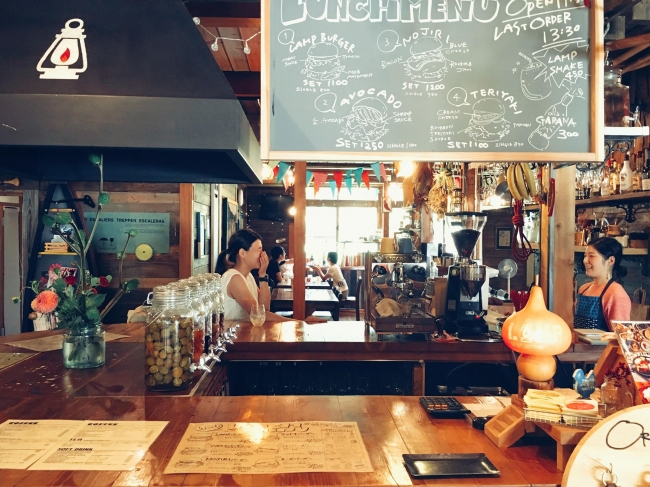 Pictured: Guesthouse LAMP Lake Nojiri (Nojiri, Shinanomachi, Nagano Prefecture) 
Guesthouse LAMP Lake Nojiriko (Nojiri, Shinanomachi, Nagano Prefecture)
Guesthouse LAMP Nojiriko is wonderful guesthouse in Nagano where you can enjoy delicious meals made from fresh local ingredients.
The surrounding area offers a range of activities all year round! From spring to autumn, head down to Lake Nojiriko for water activities like SUP and kayaking. In winter, head to the nearby ski resorts or enjoy our genuine Finnish sauna!
GOBANCHI (Nanbu, Yamanashi Prefecture)
GOBANCHI is recommended for those who want to work while traveling. We have a great co-working space that includes a meeting room.
When you need to take a break, you can exercise in a gym with forest and river views! It is a perfect place to work while traveling.
EMBLEM STAY Kanazawa (Kanazawa, Ishikawa Prefecture) 
The famous Omicho Markets are only 2 mins walk away! Why not buy some local produce and make use of EMBLEM Stay's spacious kitchen?! Share an "Oishii" moment with other guests and experience a new way of traveling. Then, end the day with some local saké at SOCIAL BAR.
While you're staying at EMBLEM, don't forget to take a stroll through the old town area, with its fusion of samurai history, tradition, and modern art.
Find a new way to experience travel!
EMBLEM Hostel Nishi-Arai (Nishi-Arai, Tokyo)
Located in a suburb of downtown Tokyo. You can meet various people from around the world in EMBLEM Hostel. Let each encounter make your travel unforgettable!
Heading overseas for your next vacation? Check out these unreal places newly added to the HafH Network!!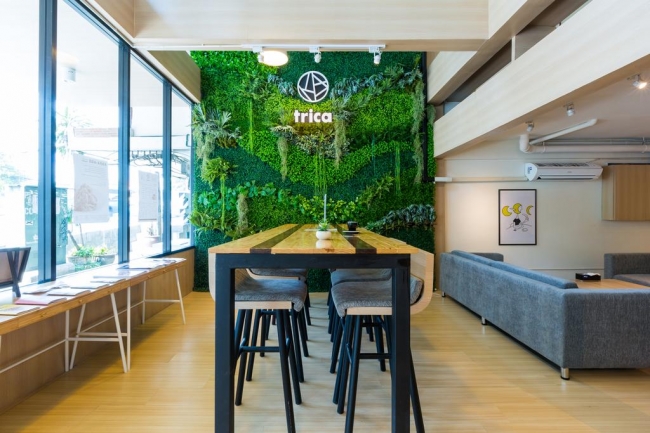 Pictured: Trica Hostel, Cafe & Bar (Bangkok, Thailand) 
28 SHU XIANG HOTEL (Taiching, Taiwan)
https://www.booking.com/hotel/tw/er-ba-shu-xiang-lu-su.en-gb.html
Located in a quiet and convenient suburban area of Taichung, you can still get to the famous Fengjia night markets in 5 mins by taxi!
Whether you are in the hotel lounge, outside in the garden or in the nearby park, there is plenty of greenery around, providing a relaxing environment. You can even eat breakfast in your room here!
28 SHU XIANG HOTEL is highly recommended for those looking to escape their busy lifestyle and unwind!
trica Hostel, Cafe & Bar (Bangkok, Thailand)
Away from the hustle and bustle of central Bangkok. A place where local and global guests mix.
Miso & pork soup, and kara-age (Japanese fried chicken) will heal your travel fatigue!
Paper Plane Hostel (Kuala Lumpur, Malaysia)
http://www.paperplanehostel.com
At Paper Plane Hostel, you'll be greeted by some of the friendliest staff and their adorable house cat!
We've created an "at home" feel here, and it helps people get to know each other better. Visitors tend to make friends here, and often end up traveling together after they've stayed with us!
Only 5 mins walk away from Paper Plane Hostel are famous night markets Jalan Alor in Bukit Bintang.
The Brownstone Hostel and Space(IPOH, Malaysia)
https://www.facebook.com/Best.Hostel.In.Ipoh/
Stunning interior and design, and very friendly staff. The hostel is super clean, well maintained and in a great location; just a short walk to the old town city of IPOH.
Complimentary breakfast, like toast with butter and jam, and bananas, is prepared by the hostel. 
Using HafH is easy: there's only 3 steps to register.
Most importantly, the first month you sign-up in is free! 
You can book to stay at these new locations in the HafH Network from today! Please register and book through our website: https://hafh.com/jp/top/
Payment dates fall on the first day of every month. As the first month you register in is free, if you register on July 1st you don't have to make any payment until August 1st!! That means you can stay at HafH for all of July for free. See our website for more details.

How to register with HafH

Step 1: Register (it's free to register)
Step 2: Choose your plan (Choose from a 5 day, 10 day or 30 day plan)
Step 3: Choose where you want to stay (to make a reservation request)
Welcome to HafH!
Of course, there are many impressive locations in the HafH Network, not just the ones mentioned today! Check out our website to find out more about our amazing network!

By adding travel to the "usual" way of living, you enrichen your life through new encounters, experiences and learning new things! Why don't you try the "travel as you work" lifestyle for yourself?! 
HafH – Enjoy your life journey!