news
2019.05.22
Newly opened: completely refurbished traditional Japanese residence now available for member's of HafH. Also: Malaysia subsidiary recently established! Accelerating the expansion of our HafH Network overseas!
A co-working space surrounded by a private Japanese garden. Experience the breathtaking view of Nagasaki City while you work/travel.
Absolutely no security deposit fees, utility fees or unexpected extra costs. HafH's newly refurbished Japanese style house, complete with its own Japanese garden, is now opened! All rooms in HafH Nagasaki Garden are private room types.
Remote working? Workation? Why don't you give this travel as you work lifestyle a try! HafH members, called Neighbours, get access to our 60+ locations worldwide – with the first month of registration being free!
KabuK Style Inc (Copartners KJ Sunada and Ryo Osera) has just opened its second directly-managed location HafH Nagasaki Garden in the middle of Nagasaki City. Reservations for HafH Nagasaki Nagasaki are now open through the HafH Reservation app, Happli. You can start residing at our stunning new location from June, this year! With 5 private rooms available, you can live in the heart of the Nagasaki City, with incredible views of the town which is built into the slopes of the surrounding mountains.
(Above)Private room: All necessary basic furniture like bedding, shelving, etc. are provided so you can move in straight away.
(Above) HafH Nagasaki Garden's beautiful Japanese tatami-floored co-working space. Desks have been jigsawed from the outer floor to allow for Neighbours appreciate the beautiful Japanese garden outside while using this space.
(Both HafH Nagasaki Garden and the company's first location HafH Nagasaki SAI have been designed by architect Yu Momoeda.)
Neighbours (members) on a Work in HafH plan or on any of the Live in HafH plans have access to use the co-working space at HafH Nagasaki Garden at no extra cost!
It is possible for non-members to use the co-working space facilities at HafH Nagasaki Garden (please call HafH Nagasaki SAI to make arrangements).
(Above)Take in the incredible night view while working or reading a book.
(Above)To make your stay comfortable, the kitchen and bathrooms have all been renovated to a high standard.
HafH Nagasaki Garden is designated for those Neighbours who have chosen the Always HafH (Earth) plan: 1 month+ (¥82,000/month). As one of the first HafH Neighbours, we highly recommend you come to check out and stay at HafH Nagasaki Garden!
(Above)Stylised entrance lamp at HafH Nagasaki Garden
●「Always HafH (Earth)」Plan:
Monthly fee:¥82,000(tax included)
Included service:Co-living with your own private room + 10 Stay Days to use at any location in the HafH Network worldwide during that month + 500 HafH Coins
By choosing the「Always HafH (Earth)」Plan, you can have your own private room, which remains your room even while you travel to Japan or the world using your Stay Days in the HafH Network!
The Always HafH (Earth) Plan is designed for those who want to partly settle in their newly chosen "second home" while still traveling the world; for those who've been transferred at work; and for digital nomads and university exchange students.
「Always HafH (Wind)」 is for the "address hoppers" (nomadic lifestyle – living without a base home); a lifestyle that is currently a hot topic with the media. This is a 1 month+ plan that allows you to move from location to location at will (like the wind).
● For terms and conditions for each of the HafH Plans, please check out the link below:
• T's & C's for each HafH Plan:https://app.hafh.com/notice
●How to use HafH (choosing the Always HafH (Earth) plan:
1)Become a HafH Neighbour by registering your details through
the HafH Neighbours' (member) site「Happli」
2)After logging in, choose "view/ edit profile" from the account
page.
3)Choose "Edit Profile" located at the bottom of the page and
select "Always HafH (Earth) plan.
4)Select a base location from the dropdown menu under
「Always HafH (Earth)」
5)Submit your reservation request and then you can communicate directly
with the desired location.
6)Start staying with HafH!
Current HafH Network locations able to accommodate Neighbours staying on an Always HafH (Earth) plan (as of May 2019) are:
HafH Nagasaki SAI (Nagasaki City, Nagasaki Prefecture)
HafH Nagasaki Garden (Nagasaki City, Nagasaki Prefecture)
LiRY Minami-Shinagawa (Shinagawa Ward, Tokyo)
Trendy Tsujido (Fujisawa City, Kanagawa Prefecture)
POTHUB (Kuala Lumpur, Malaysia)
●HafH Network Locations available on other HafH PlansLocations in Shimane Prefecture and Kagoshima Prefecture have recently been added to the HafH Network!! This brings the total number of locations within the HafH Network to 60. We now have locations in every prefecture in Kyushu!
【Japan】
(1)Views of the magnificent Sakurajima volcano right at your doorstep, and conveniently located right next to a ferry terminal that takes you to remote islands, like the famous Yakushima. This is a place where world travelers who are venturing out to explore the islands mingle.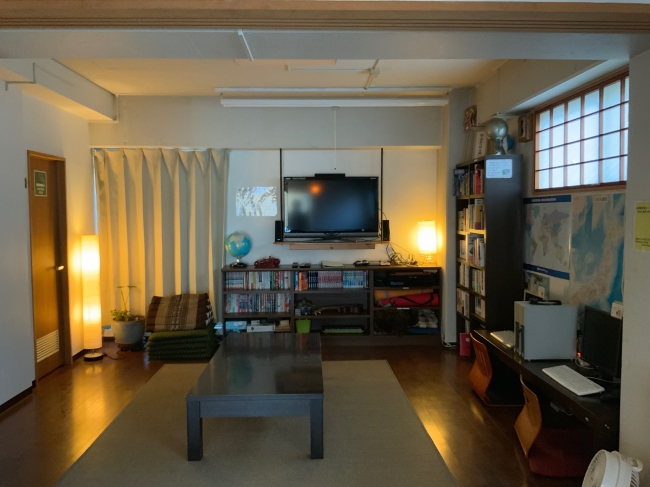 (2)Be captivated by the tranquil views of Gotsu and the friendly locals who are sure to spark your curiosity! A guesthouse that you'll want to visit over and over!
●About our subsidiary company in MalaysiaIn order for KabuK Style Inc. to accelerate its expansion outside of Japan, we are preparing to establish subsidiaries in each APAC country to take care of local operations and marketing.
As our first step towards this, we have established KabuK Style SEA SDN. BHD. in Kuala Lumpur, Malaysia.
We are continuing to expand our overseas network!
●Updates to Happli (the app for HafH Neighbours)We are constantly updating our app, Happli, in order to make using the HafH Network easier and more convenient, so you can travel while you work.
(As Happli is a web app, there's no need for you to do any updating.)
Current Update: We've added a messenger function, so now you can easily communicate with the HafH location you've made a reservation with, or with our Customer Support team.
We are constantly refining Happli to make using HafH even more convenient for our Neighbours, and we will continue to add even more new functions to Happli.
Enjoy your Life Journey!