Trial Stay at HafH Goto The Pier – Offer limited to HafH Neighbors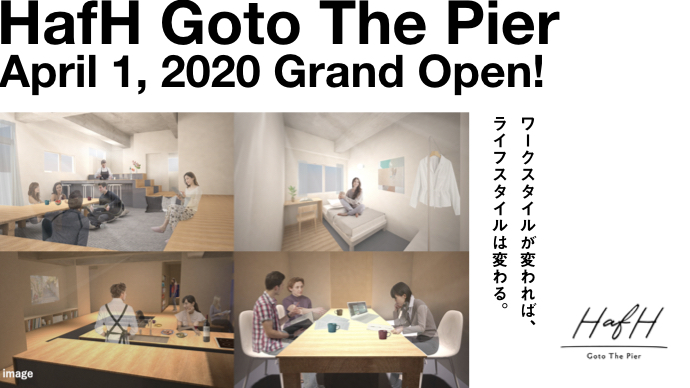 We will hold a trial stay party open only to HafH Neighbors (members) at our soon to open HafH Goto The Pier coliving/coworking facility between March 18 to March 24. We'll be accepting applications for two weeks from March 1 until March 15. The grand opening for The Pier will be on April 1, 2020.
To all HafH Neighbors
Thank you for using HafH!
HafH Goto The Pier will finally be opening on Wednesday April 1, 2020!
We'd like to also say a big thank you for all your support with this too!
With the completion of HafH Nagasaki SAI and HafH Nagasaki Garden one year ago, plus the grand opening of HafH Fukuoka THE LIFE in February this year, HafH Goto The Pier will bring our total number of directly run facilities in Japan to 4!
Leading up to the grand opening of The Pier, we are offering HafH Neighbors the chance to join our trial stay party.
The trial stay will take place right before the grand opening, so we'd like to invite interested HafH Neighbors to come and stay at the Pier, and give us their honest opinion of the facility including any points they feel need to be improved. That way we can work to smooth out any possible issues in time for the grand opening.
For any HafH Neighbors interested in staying at HafH Goto The Pier, please apply for HafH's official website https://hafh.com/
From all the staff, we are looking forward to meeting you all!

Application period
Sunday, March 1 to Sunday March 15, 2020
※The cut-off time for applications will be at 24:00 on Sunday March 15.
Trial Stay Period
Monday, March 23 to Thursday, March 26
※Final check-out will be at 10:00 on Friday, March 27
Getting Here
You can get to Fukue Island in the Goto Islands by jetfoil (high-speed ferry) from Nagasaki Port in Nagasaki City. There are also flights to Fukue Airport (Goto Tsubaki Airport) from both Nagasaki and Fukuoka Airports.
It's only a 15min walk from Fukue Port to HafH Goto The Pier, and only a 10 min taxi ride from Goto Tsubaki Airport.
Please refer to the link below for a map of the area
(URL: https://goo.gl/maps/KY1Mx1GSwg1DSxsm9 )
Address: 2F 7-12 Bukeyashiki 1-chome, Goto-shi, Nagasaki-ken
(Japanese: 〒853-0017 長崎県五島市武家屋敷1丁目7-12 2F )
Important Notice
・Please be aware that as we'll be accepting reservations on a first come
first serve basis, there may not be a room vacant on the date you wish to
stay.
・ After the trial stay party period ends, stays at The Pier will require 100
HafH Coins per night
・There is a maximum stay of 3 nights per person
・We will be asking all Neighbors who stay at The Pier during the trial stay
party to complete a questionnaire on how we can improve operation.
Images of a what a complete
HafH Goto The Pier will look like