HafH Diversity in Residence Project Report Vol.3 – Why MMA Fighter Shinya Aoki gave up his house –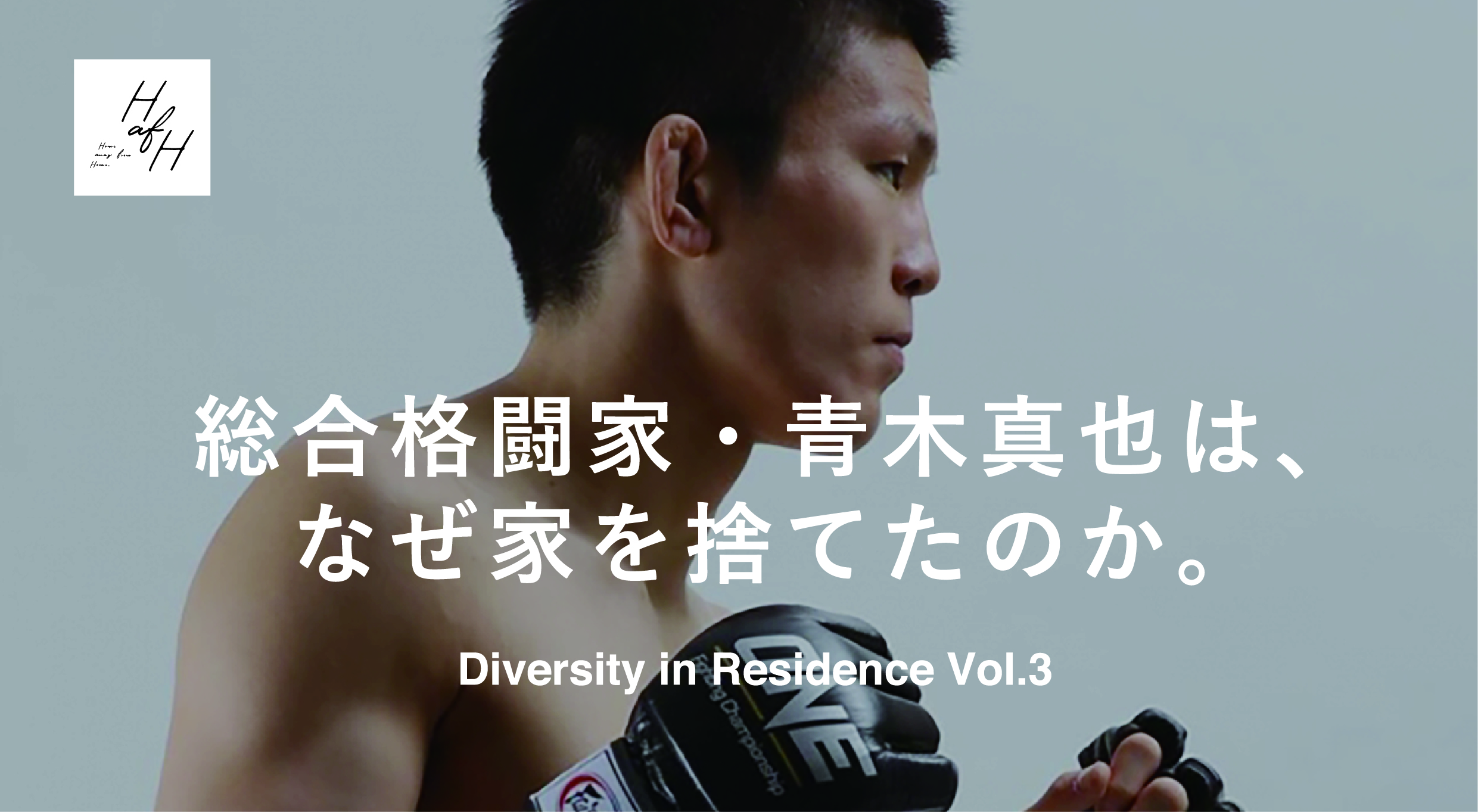 We also talk with Takahiro Miura of Breakthrough Company GO
Hi! HafH Crew Tatsu here! 
To fit in with the HafH motto "to create a society in which diverse values are accepted", we've been running our Diversity in Residence project. Through this project we provide an opportunity for people to experience diversity, something that many people (especially those in regional areas) don't come across too often. Vol. 1: Co-living with Twin Artists, Vol. 2: Co-living with a Traveling Chef.  Vol. 3 (this volume) is Co-living with an MMA Fighter. Top-ranking World MMA fighter Shinya Aoki will travel and live around the world as an ambassador for HafH. He might even end up staying at the same HafH as you!
On Saturday July 27th, we held Diversity in Residence Vol. 3 – Why MMA Fighter Shinya Aoki gave up his house – at HafH Nagasaki SAI. The talk session included Shinya himself, along with The Breakthrough Company GO's Representative Director Takahiro Miura.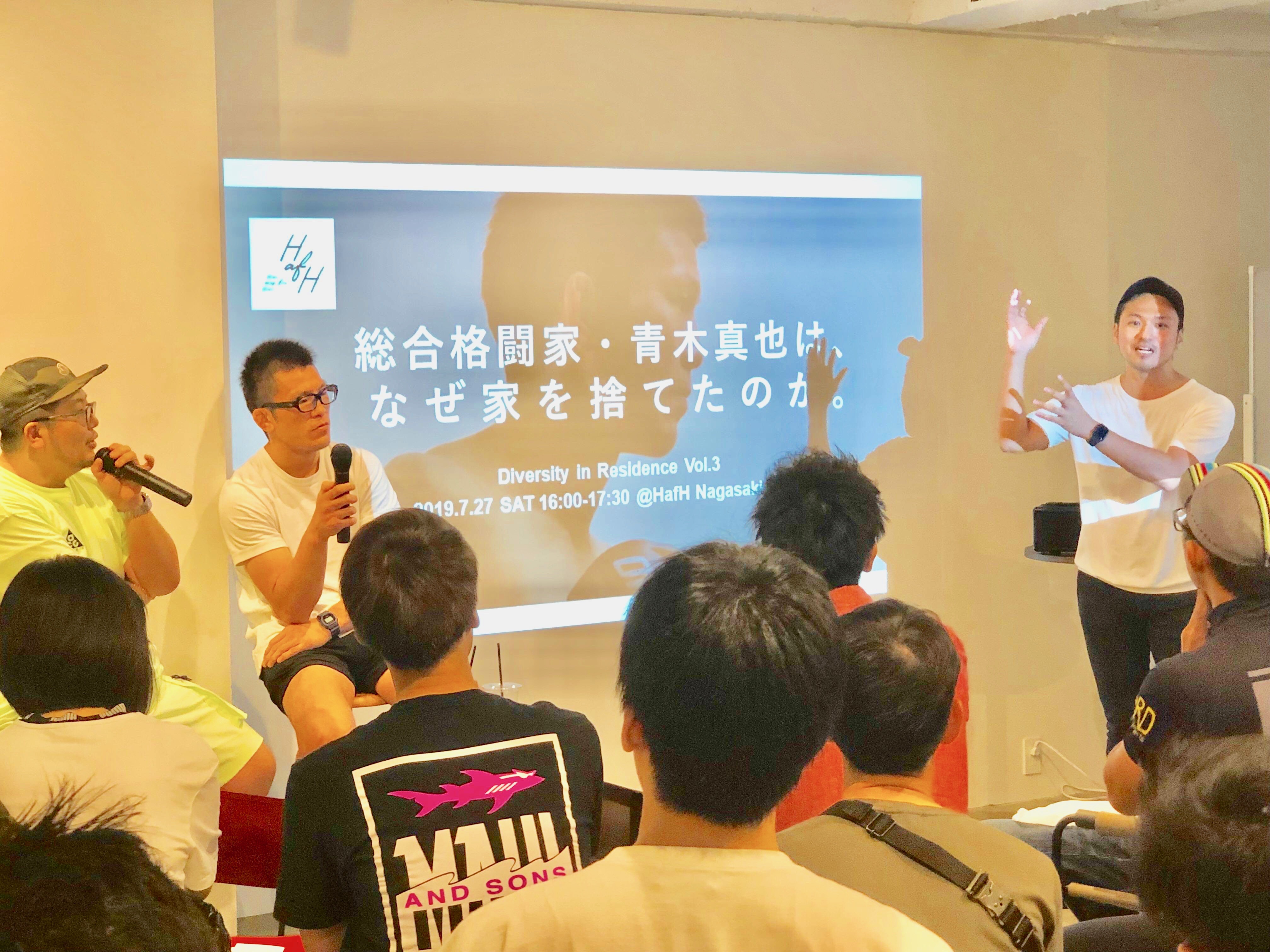 Many martial arts fans turned up to the event, and while the majority were men, there were quite a few women who came along (some even bringing their copy of Shinya's book). 
There was a great flow of dialogue between Shinya Aoki and Takahiro Miura making for a very informative talk session. Takahiro was able to take the thoughts and feelings of Shinya and clearly explain how they relate to current social issues. 
Takahiro – "Why did Shinya Aoki give up his house? The answer is simple! It's because his family ran away from him."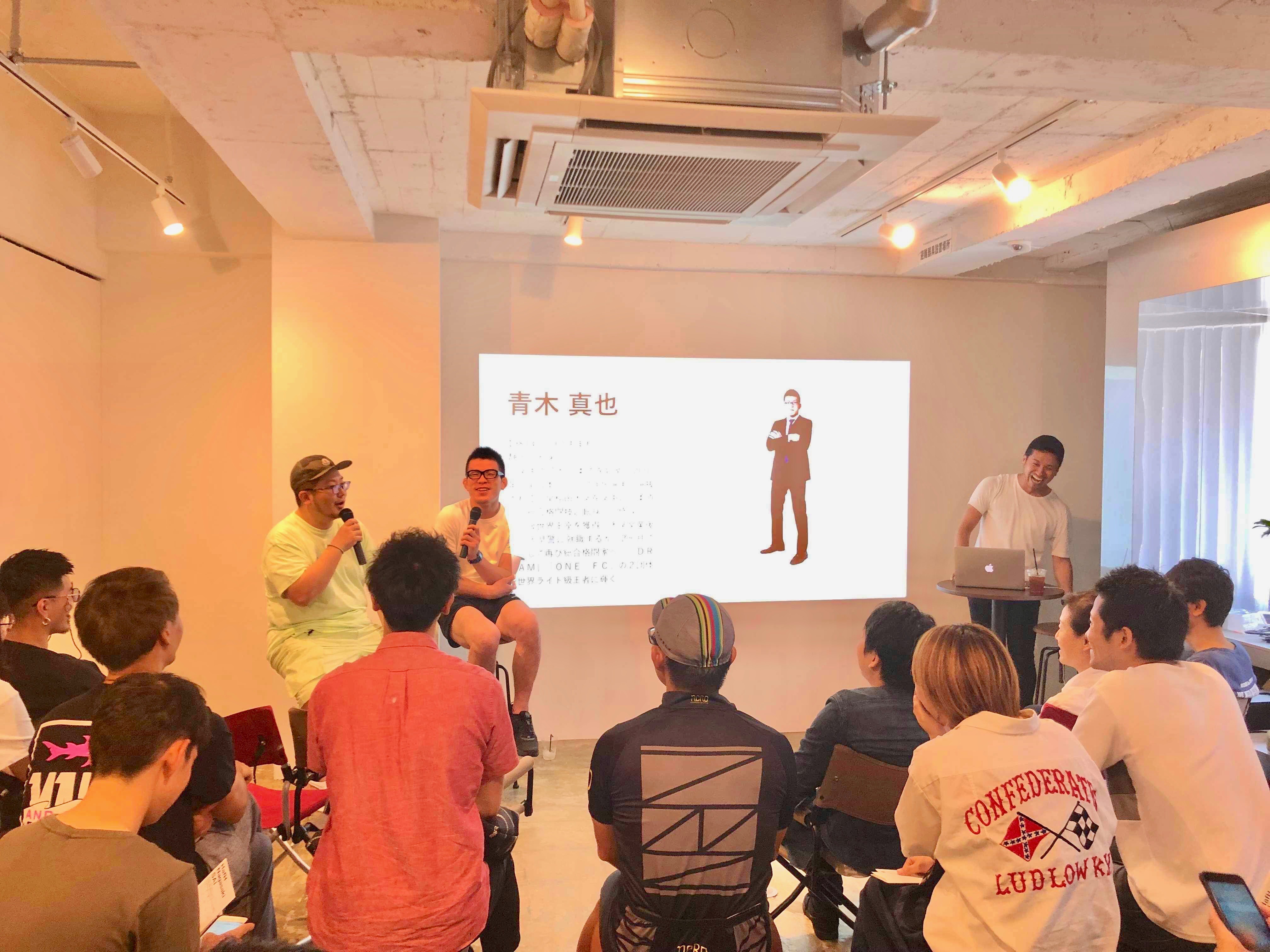 (Above) Takahiro flying straight into it from the start.
There was a kind of harmonious atmosphere at the venue, and 90 minutes passed by in no time. 
Shinya said that through experiencing the HafH service, he felt that "HafH will keep being able to suit the lifestyle needs of many, and be a means of support for those chasing their dreams." Even in the martial arts world, there seems to be a trend in which those aiming to become world champions give up just because they aren't able to become affiliated with the famous gyms in large cities due to financial issues etc. There was a suggestion that those athletes with promising futures who are living in regional areas, could make use of HafH. Through the ability to live in various locations throughout the HafH Network, there is a possibility of increasing their opportunities without having to move into the big cities.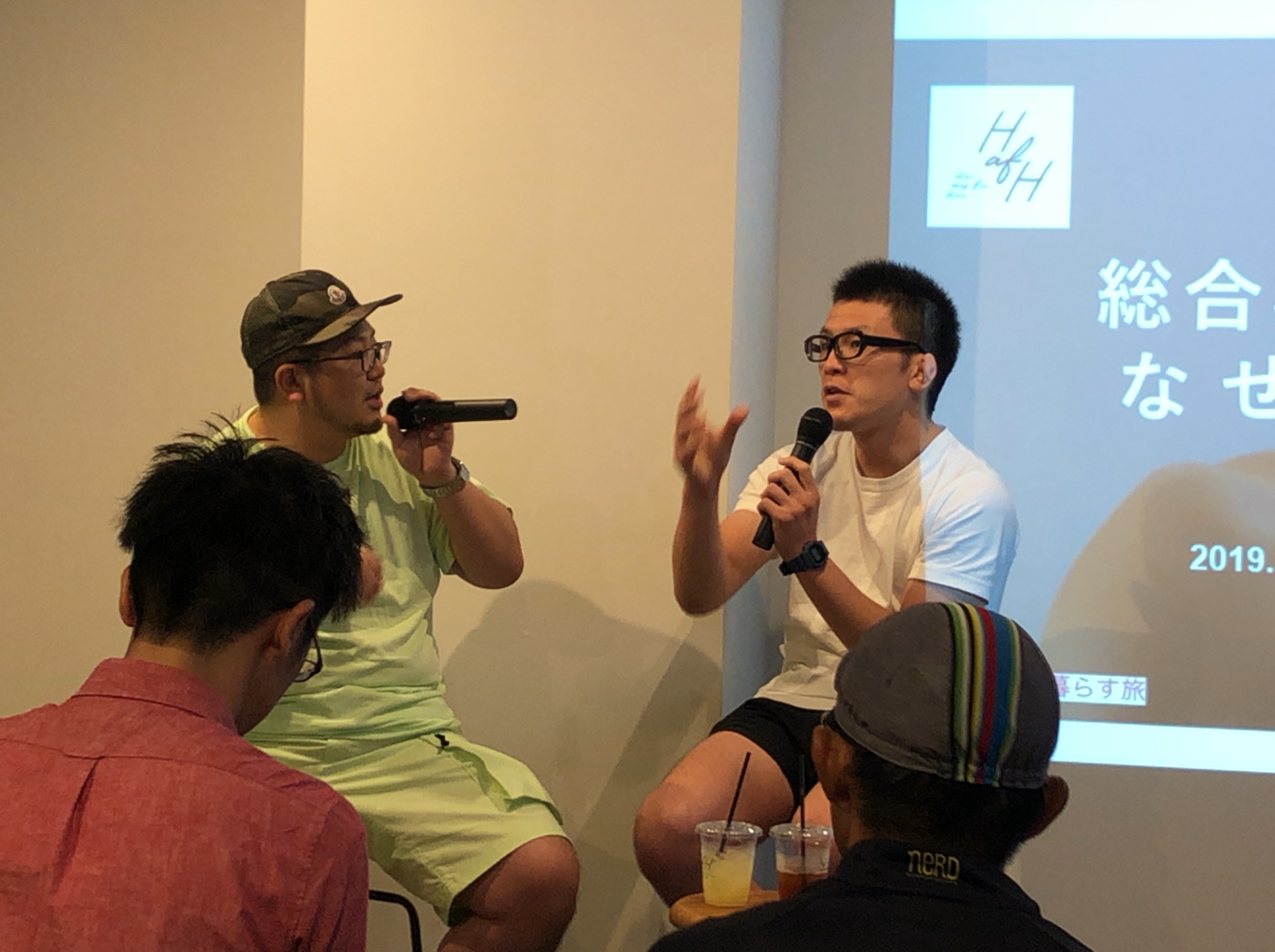 On the other hand, Takahiro joked "You could say the growth of services like HafH is also cruel. People will no longer be able to use excuses like "I don't have the funds" or "I don't have the means to do it." Do it, or don't do it: you just have to live your life passionately!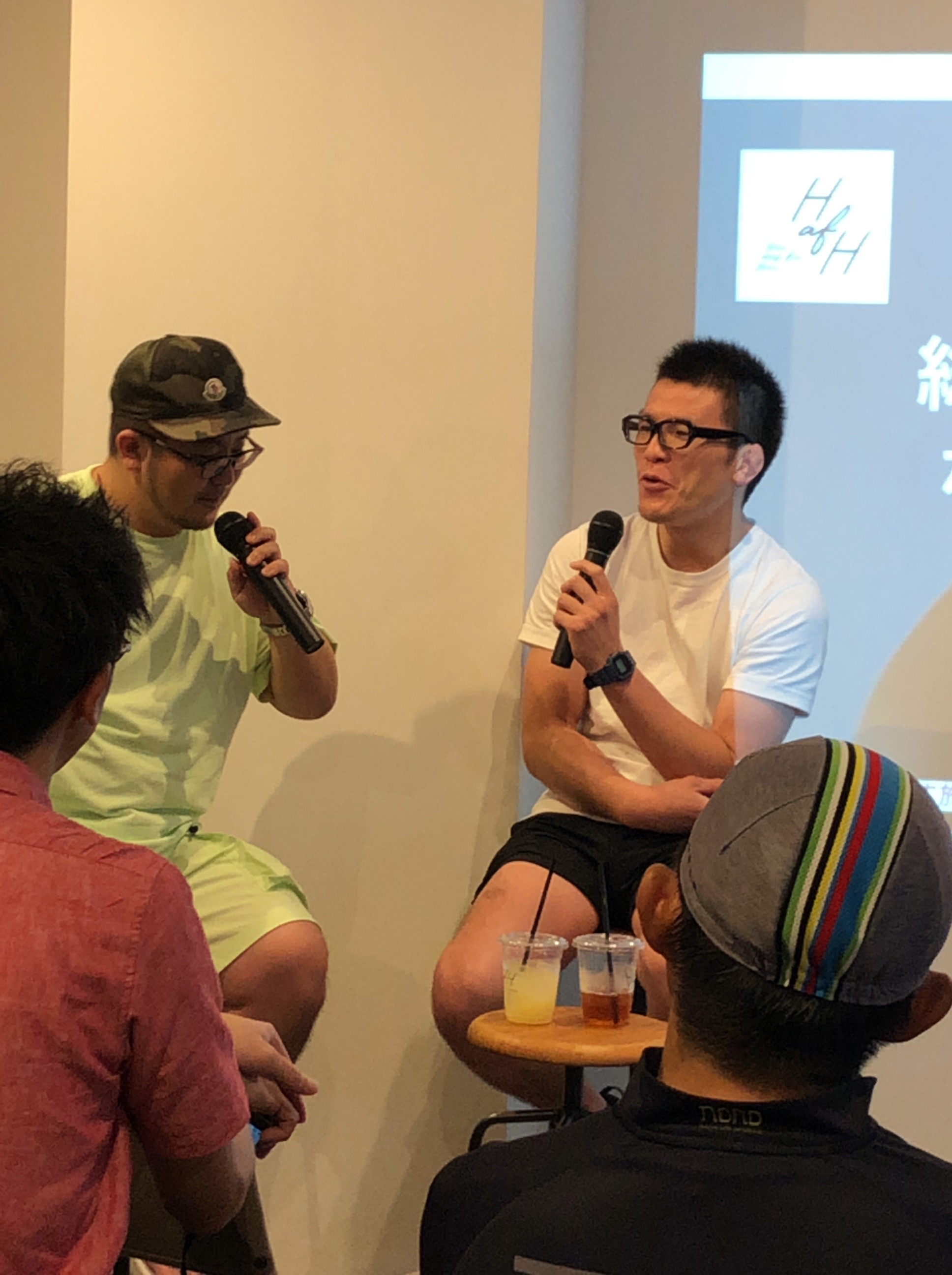 Shinya said above all that he's anticipates HafH will become an option for minor athletes. Rather than lingering in once place, he said "there's a benefit from encountering many people as you travel; it becomes easier to make fans across many locations with the prospect of various kinds of support and encouragement. HafH's set price system is also easy to understand and makes it easy for you to see where you're at financially." 
These days, we live in an age where if we have access to the internet, we can get anything we need. Not just limited to internet search engines, there's an unlimited number of convenient services available covering every field, like social media. From young children to adults, knowledge seems to be increasing and there is a feeling that literacy is rising too. However, I suppose you could say it also has the opposing effect, with an increase in people being satisfied with just getting answers and information and not actually acting on it or using that information to its full potential.
It made me think that, as we live in a world where it's become so easy to attain information, we need to take the effort to actually make good use of that information and put it into action.
At the end of the talk session there was some Q&A time with participants. 
One of the questions was " How do you think Nagasaki should be promoted?"
Takahiro answered the question. "Nagasaki is a melting pot of churches, temples and shrines all in one place. I think the hint in promoting (Nagasaki) is right there in its atmosphere, its blend of  foreign and local culture."
Continuing on, Takahiro said, "As the word "globalization" disappears, we will enter an age of seamlessness – not the notion that Japan needs to thrust its way into the world, but that it will begin from the world naturally with Nagasaki as the base of this seamlessness. "
Even though I'm an employee of HafH, having come to Nagasaki in person, I also really felt the charm of this amazing place. The more you come to know about how the people and the townscape of Nagasaki differ from other prefectures, the more interesting it is! Through HafH, I hope we can share the charm of Nagasaki with many people.
After the Q&A session, all those who attended got together with Shinya and Takahiro for a photo!  
Stay tuned for more on our Diversity in Residence Project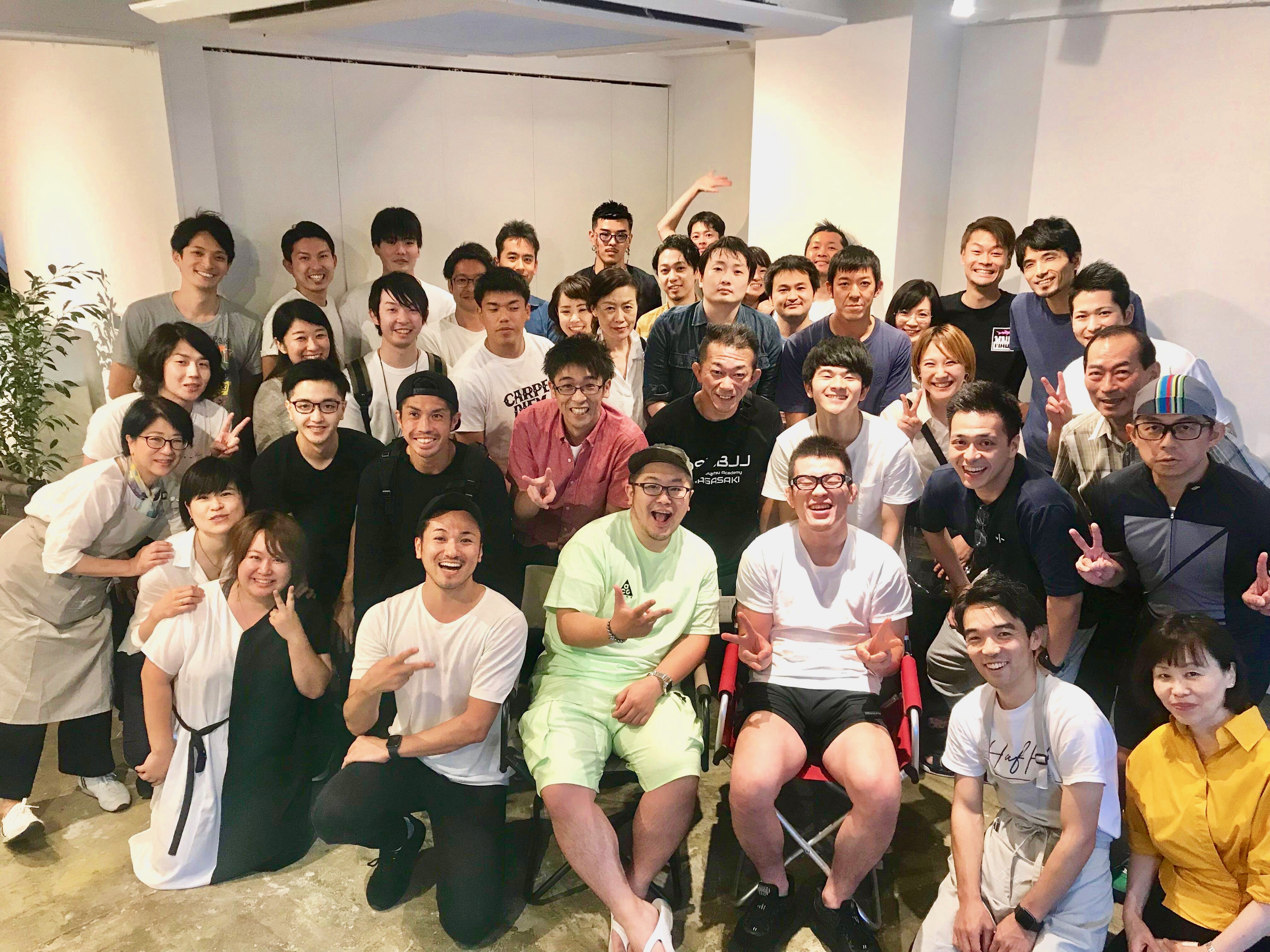 Words by: Tatsu
For info on upcoming HafH events, check out our social media pages! 
Facebook @HafHWorld
https://www.facebook.com/HafHWorld/
Instagram @hafhglobal