Accelerating the development of coliving facilities: Capital and business partnership with NEC Capital Solutions Ltd.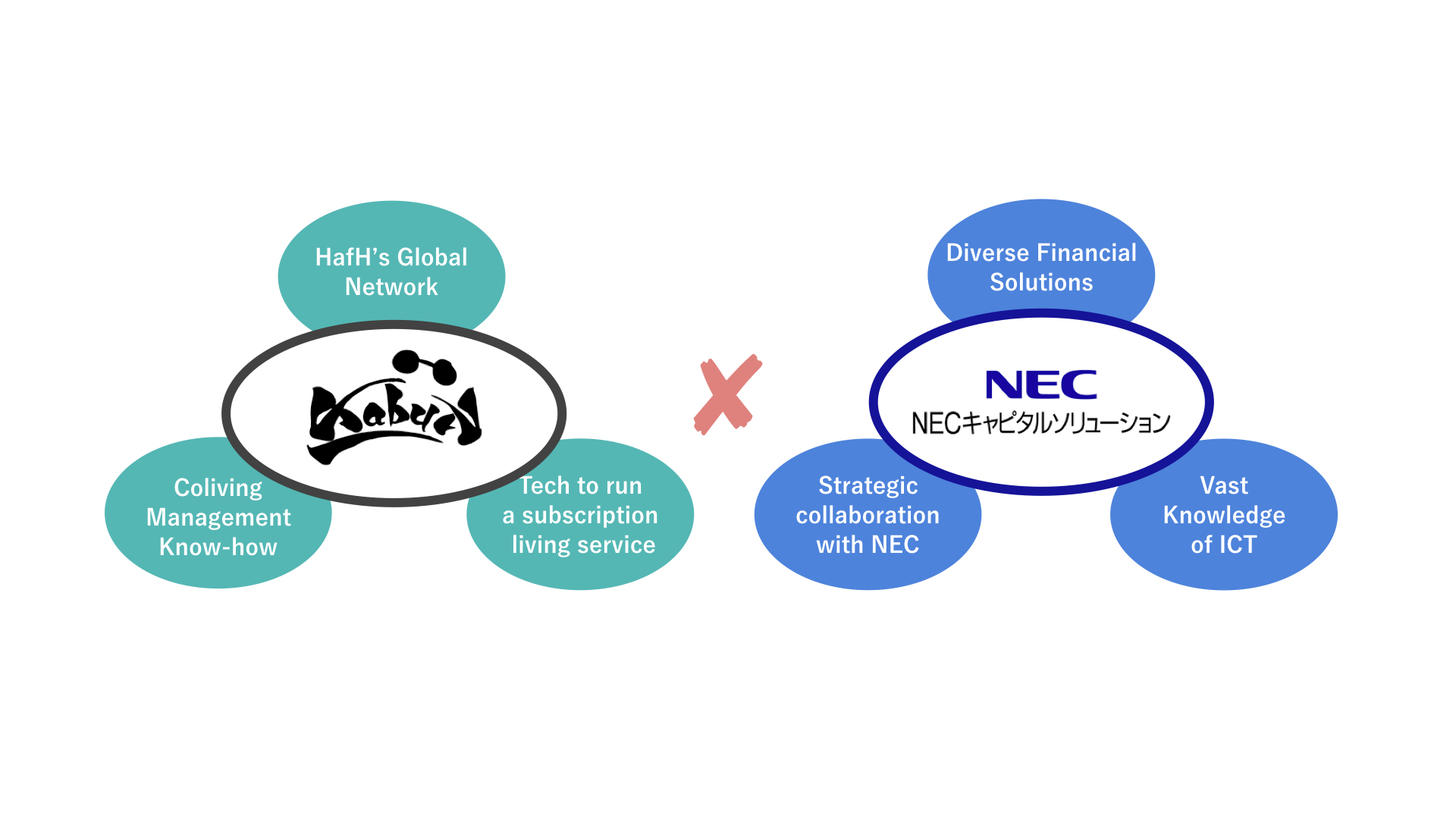 KabuK Style Inc. (Co-CEOs KJ Sunada and Ryo Osera) has signed a capital and business partnership contract with NEC Capital Solutions Ltd. (President and CEO Tomo Imazeki) with the aim of further accelerating expansion of its coliving network. KabuK Style will receive support from NEC Capital Solutions Ltd. for its future plans for, and development of, coliving accommodation facilities, and the company's business expansion plans.
In order to provide an even better service, KabuK Style Inc. (KubuK for short) is focusing on expanding the accommodation facilities of its fixed price "all-you-can-stay" service, called HafH. The company is especially focusing on the expansion of its coliving facilities which it sees as an important element in its mission to "create the infrastructure for a society that tolerates and accepts diverse values as they are." KabuK is aiming to create a future where coliving (something that still hasn't globally taken hold yet) is but another living option. Through this alliance with NEC Capital Solutions Ltd. (or NEC Capital for short), we've diversified our method of procuring development funds and are striving to deliver first-class coliving facilities to you all as soon as possible.

NEC Capital's business operations in itself works to create economic value as well as social value through its "CSV" (or "creating shared value") operations. As a part of its CSV operation, NEC Capital plans to expand into the farming, tourism, energy and healthcare sectors in an effort to tackle issues that face regional areas. NEC Capital is also looking into accelerating its activities in the tourism sector through its partnership with KabuK Style.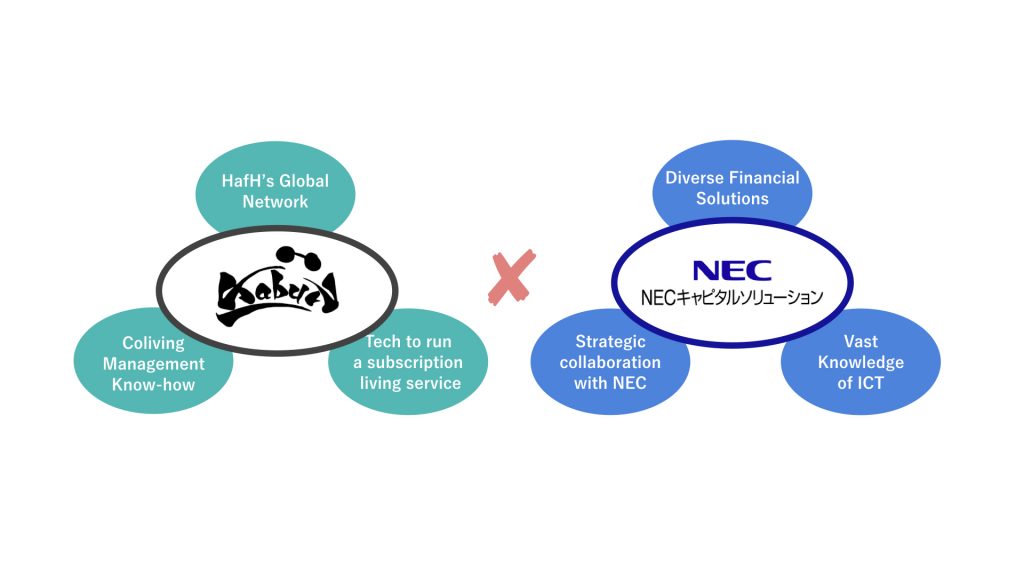 Here are the main details of the capital and business partnership.
NEC Capital will consider financially supporting (financing, investment, asset securitization, co-financing with regional banks, etc.) KabuK's plans for, and development of, coliving facilities
KabuK and NEC Capital will comprehensively cooperate with each other on the management of KabuK's accommodation and restaurants businesses and NEC Capital's tourism related accommodation and restaurant activities
KabuK will provide support in accelerating business development with regards to NEC Capital's regional revitalization through tourism projects
As a first step, we've taken over any and all business related to "The Life Hostel & Bar Lounge" from Trasta inc. as of November 2019. The Life will be positioned as one of KabuK's flagship accommodation facilities, and is set to be opened on February 1st, 2020 after renovations have been completed.
Further details will be publicly announced once finalized.

We're already progressing onto our 2nd and 3rd projects so that we can provide a comfortable living environment that's available when and where you want it!
【THE LIFE HOSTEL & BAR LOUNGE – prior to renovations】

<Facility Overview>
Title: THE LIFE HOSTEL & BAR LOUNGE
Location: Daiichi Prince Building, 8-13 Gion-cho, Hakata-ku, Fukuoka City
Size: First (ground) floor 314.26m2, 2nd floor 634.04m2
Number of beds: Total 132 (dormitory style:112, private beds (2 person capacity): 10 rooms)
KabuK is working towards its goal of realizing a "society that tolerates and accepts diverse values as they are," and is accelerating its business progression in order to provide better service, and expand its accommodation facilities.

Enjoy your Life Journey!
KabuK Style Inc.
Company Profile
Company Name: KabuK Style Inc.
Representative: Co-CEO's KJ Sunada and Ryo Osera
Established: Feb 5th, 2018
Capital: JPY411 million (capital and capital reserve as of the end of November, 2019)
Business description: Operation of our fixed-price "all-you-can-stay" service called "HafH".
NEC Capital Solutions Ltd.
Company Profile
Company Name: NEC Capital Solutions ltd.
Representative: President Tomo Imazeki
Established: Nov 30th, 1978
Capital: JPY3.78 billion
Market Listing: first section of the Tokyo Stock Exchange (Stock code: 8793)
Business description: leasing of information and communication equipment, office equipment, industrial equipment, and other types of equipment, instalment sales, factoring services, business loans, other (business outsourcing and sales of used equipment, etc.)
About HafH
HafH is a new subscription service offering living accommodation for a fixed-price monthly fee which includes security deposits, utilities, WiFi, furniture, etc. HafH aims to be a platform that offers its services right across the globe.
As of December 2019, our fixed price "all-you-can-stay" service now has a network covering 17 countries and regions, with 171 accommodation facilities. URL:https://hafh.com/
View more news from KabuK Style Inc.
https://hafh.com/topics