What work style will be the norm 5 years from now?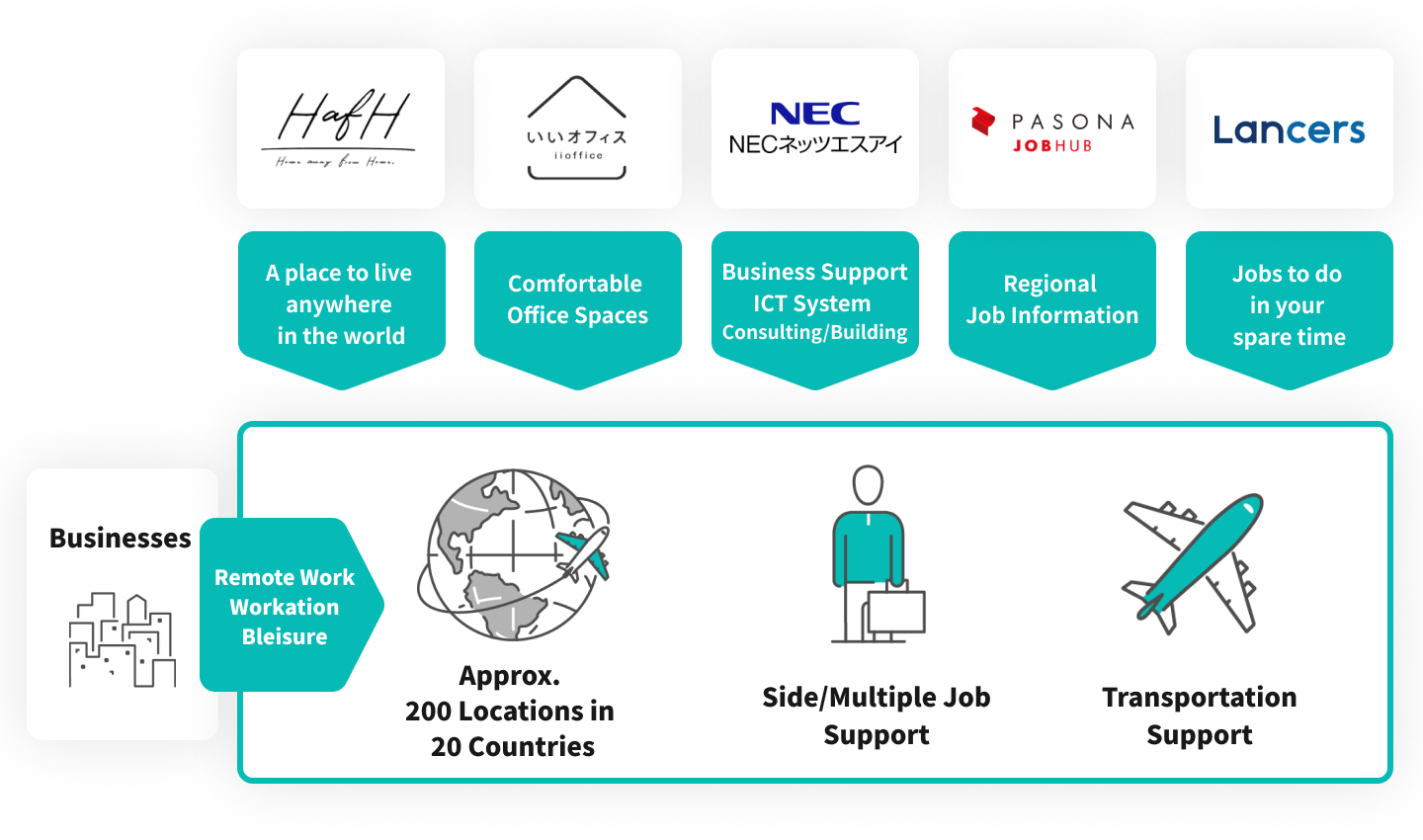 A consortium on the future of diverse work styles. 5 companies join forces to examine how to accelerate and drive the diverse next generation of working style.

The consortium is made up of the following 5 companies: Kabuk Style Inc., NEC Networks & System Integration Corporation, iioffice Inc., Pasona JOB HUB Inc., Lancers, Inc.
Kabuk Style Inc., NEC Networks & System Integration Corporation, iioffice Inc., Pasona JOB HUB Inc., and Lancers, Inc. will be looking into what work styles in 5 years time will look like. What will the diversified future of workplace and working times be like? The 5 companies will work together to come to a consensus on and support the future of a diverse work style. 

The background of the coop –
The importance of an environment where one can chose their own diverse work style
Until now, the major work reforms underway at companies has mainly focused on improving work hours only, looking at limiting overtime hours and making it easier for employees to use their allocated paid leave. What is required now, is to make a work environment where employees have the option to work more than one job, telework or remote work and have flexible office hours, etc. We've reach a point now where brilliant minded employees working at both small business and large companies alike need to be able to have a choice to pick a working style that is more suitable for their individual needs.  
To support a society where human resources are matched with a diverse work style, or have the choice to do so, this consortium will be taking a comprehensive look into the workplace, living place, and work itself, and what kind of environment/systems can be put in place to support them.
With these initiatives, we hope to help make a difference in workforce optimisation (talent share between companies, and between city and region, timeshare to support disparity in busy seasons), reductions in mismatching between business and personal work styles, and make improvements to an individuals quality of life.
The significance of thinking about the future of working styles
The consortium will work towards provoking thought and generating discussions on continuous updating of the future working styles and creating a reality for this to take place. While 5 years later is a little while away yet, it will come around sooner than you think!
Furthermore, in order to reach this future that we are pondering on now, we need to start acting today! This is why the consortium plans on delivering specific solutions to help reach this goal.

The future as proposed by the consortium
It's not just the working style of the those working at companies or sole traders that the consortium hopes to address, but also to help resolve social issue by making use of the attributes of both businesses and individuals. We believe the future work style is one that allows freedom of choice in relation to timing and working multiple jobs.
Businesses will be exposed to new diverse ideas from both within and outside the company, organizations will experience optimization, and there will be continuous generation of innovation that features the business' identity. For the individual, it means being able to choose a job that they feel is worth doing.
<Image: The future of the business – individual relationship>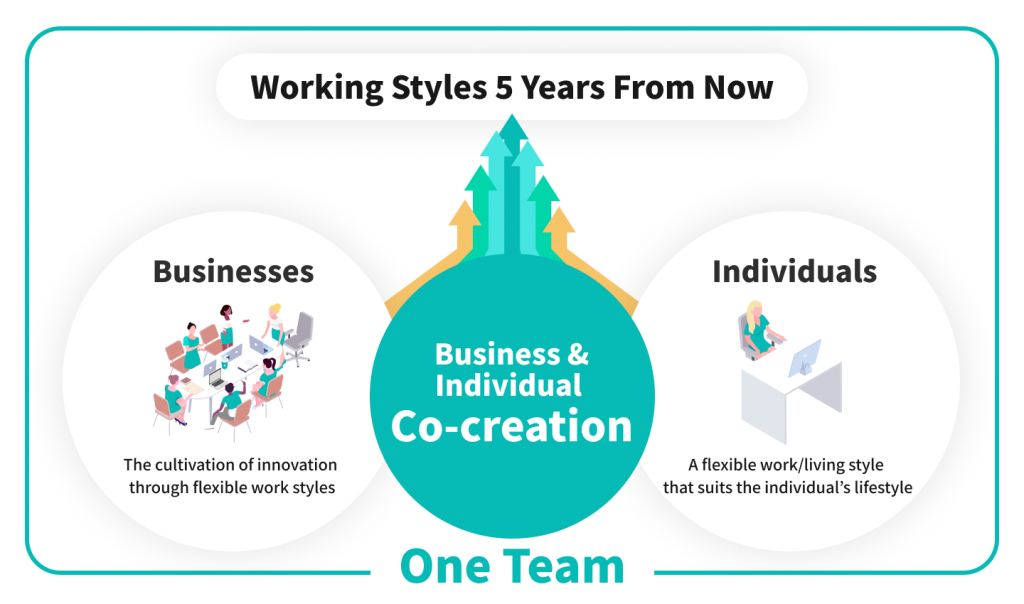 <Social issues that we hope to resolve>
Support the implementation of a diverse work/life style for the working individual
Empathetic team building through concept/ mission/ vision, business management, project management
Business development and partnership building to create businesses with a broad perspective that will contribute to resolving social issues
After concrete discussion on resolving the aforementioned issues, this consortium plans to demonstrate their findings within this year (2020). 

About the cooperative and the role of each company
By making use of each of the 5 companies strengths, this consortium intends to examine possible solutions for the creation of an environment where company employees can take on and challenge a diverse working styles. To do this, the consortium will investigate from 3 standpoints: business management tools, being able to work from anywhere, and having a worthwhile and meaningful job. We intend to start demonstrating this early this year (2020), and are also looking for more businesses to partner with us.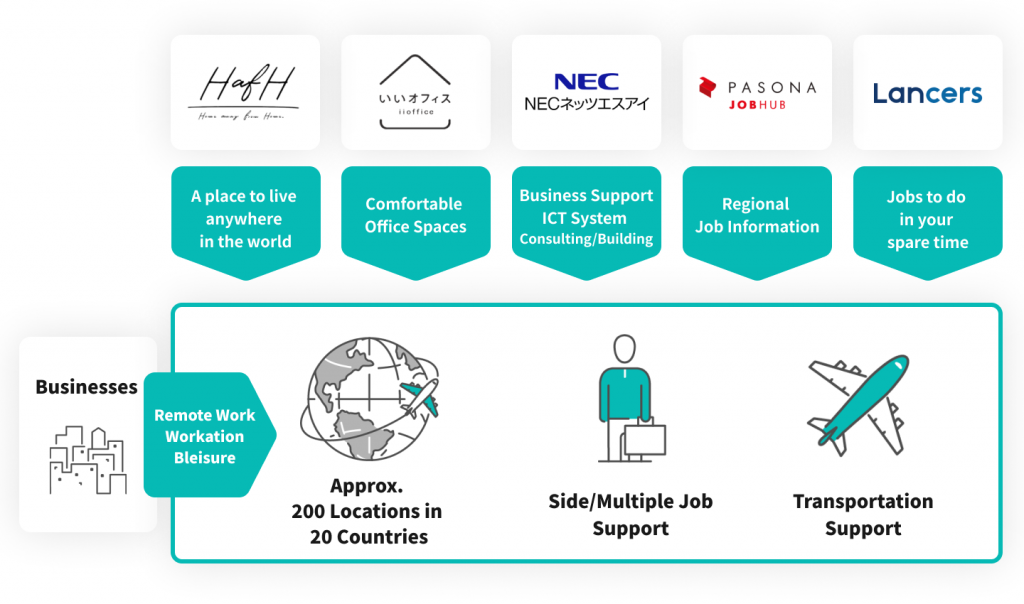 "Working styles 5 years from now" Event
As a first step, the consortium will hold an event in March 2020. The event will consist of a talk session on working styles 5 years from now, and an introduction to the consortium's strategies.
Time and date:March 4th (Wed)
Venue opens at: 18:00, Event begins at: 18:30
Venue:TRAVEL HUB MIX(Otemachi)
2-6-2 Otemachi, Chuo-ku, Tokyo
Host:The Consortium of Working Styles 5 Years From Now
URL:https://new-work-style.peatix.com (to purchase tickets)
Target audience:relevant business personnel, individuals, local government personnel
Admission:¥1,000  (This includes hors d'oeuvres/ light food that will be served at the end of the talk session)
*Media should contact us separately.
*Tickets may become unavailable for purchase if numbers reach the venues capacity.

For enquiries about this press release or regarding the consortium, please feel free to contact us at:
KabuK Style Inc.   
Contact(Tokyo Office):Ms Mishima
TEL: 03-5413-3398
Email:pr@kabuk.com

<Details on each of the 5 companies>
KabuK Style Inc.
Location : 5-21 Furukawa-machi, Nagasaki City, Nagasaki Prefecture
Date Established: February 5th, 2017
Representatives: KJ Sunada, Ryo Osera (Co-CEOs)
Business Description: Operation of "HafH" – a subscription coliving service, travel agent
URL: https://hafh.com/
Enquiries:03-5413-3398
NEC Networks & System Integration Corporation
Location : 2-6-1 Koraku, Bunkyo-ku, Tokyo
Date Established : December 1st, 1953
Representative: Yushi Ushijima (President & Representative Director) 
Business Description :   Provides integrated services covering all areas of information and communications technology (ICT) with the network as its core, from planning and consultation to system design, system integration, and construction, as well as maintenance, operation, outsourcing, and business process outsourcing (BPO). 
URL: https://www.nesic.co.jp/
Enquiries:future@ml.nesic.com
iioffice Inc.
Location: 2-20-11 Kojima, Taito-ku, Tokyo
Date Established : April 2018
Representative : Ko Ryuzaki (President)
Business Description :Operates coworking spaces and share offices
URL: https://ii-office.jp/
Enquiries:03-5812-4433
Pasona JOB HUB Inc.
Location : 6-2 Otemachi 2-chome, Chiyoda-ku, Tokyo
Date Established : April 10, 2018
Representative : Koichi Morimoto (Chairman)
Business Description :JOB HUB – a platform that provides support for diverse working styles through the following services:
・Direct matching service
・Outsourcing service
・Talent sourcing service
・JOB HUB Enterprise – providing talent management systems for corporations
URL: https://jobhub.co.jp/
Enquiries:travel@jobhub.co.jp
Lancers, Inc.
Location : 10-13, Shibuya 3-chome, Shibuya-ku, Tokyo
Date Established : April 10, 2018
Representative : Yosuke Akiyoshi (President & CEO)
Business Description :Business platform for freelancers/ talent
URL: https://www.lancers.co.jp/
Enquiries:press@lancers.co.jp