HafH Fukuoka THE LIFE is NOW OPEN! And it's for everyone!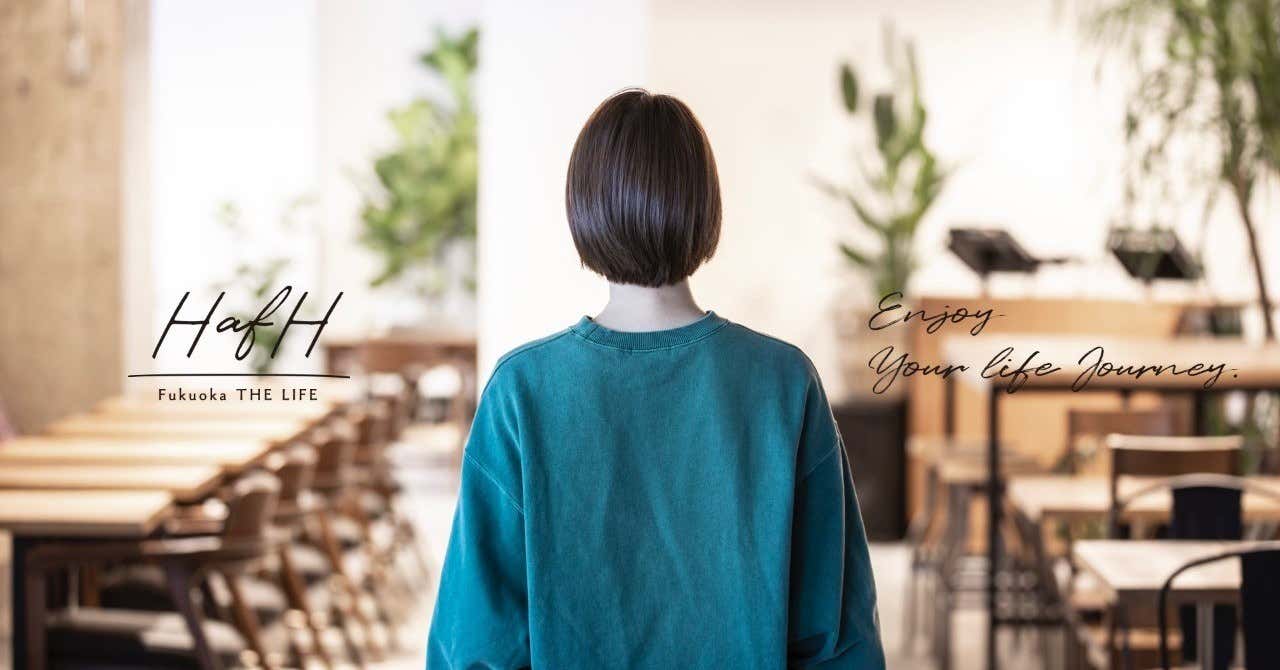 This is Ryo, Co-CEO of the subscription coliving service HafH. On February 1st 2020 HafH's Fukuoka flagship facility HafH Fukuoka THE LIFE opened its doors. At just 10mins walk from JR Hakata Station, 20mins subway ride to Fukuoka Airport, 5 mins to the Nakasu area, only 3 mins walk to the famous Canal City Shopping Center, and right next to legendary sauna Wellbe Fukuoka, HafH Fukuoka THE LIFE is in the perfect location to get all you need out of your time in Fukuoka. THE LIFE is not just for HafH Neighbors (members) but for everyone. We hope to see more faces coming in to see us, so please allow me to introduce the facility in a little more detail.
We still kept a lot of the charm of the previous facility THE LIFE HOSTEL and BAR LOUNGE that opened 3 years ago, but added some HafH style "accepting diverse values for what they are" infrastructure. I'll explain the 3 biggest points below.
① Newly added – Premium Dormitory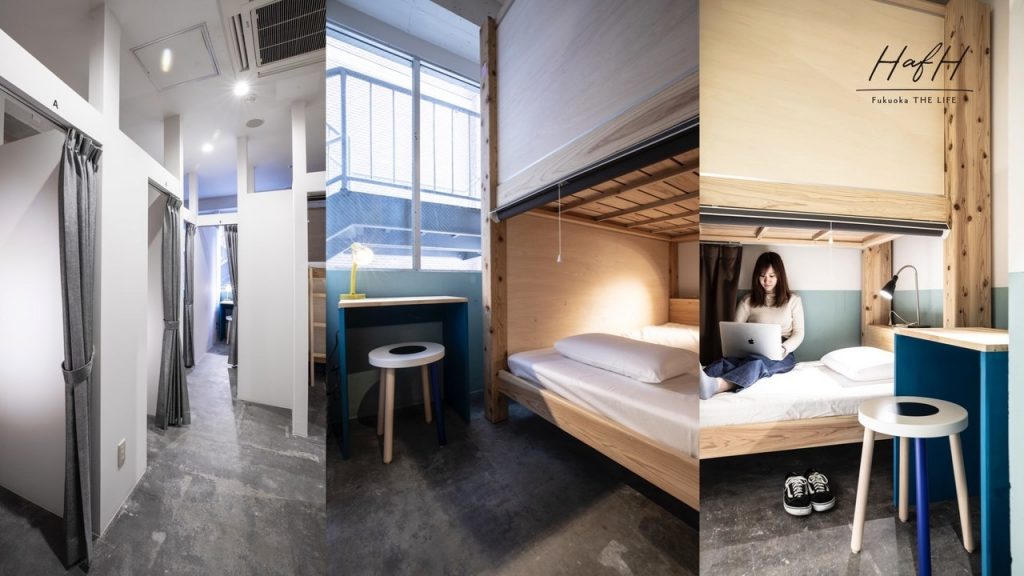 While dormitory style beds are a great option for backpackers, we know that digital nomads and those traveling as they work often still need a more private space, which is why we've created the "premium dormitory." While still being an affordable dormitory, it has an added sense of privacy to it, a small personal desk and the mattresses are airwave! While you still have a Neighbor on the bunk above or below you, our clever design using walls and curtains means you almost have your own private room!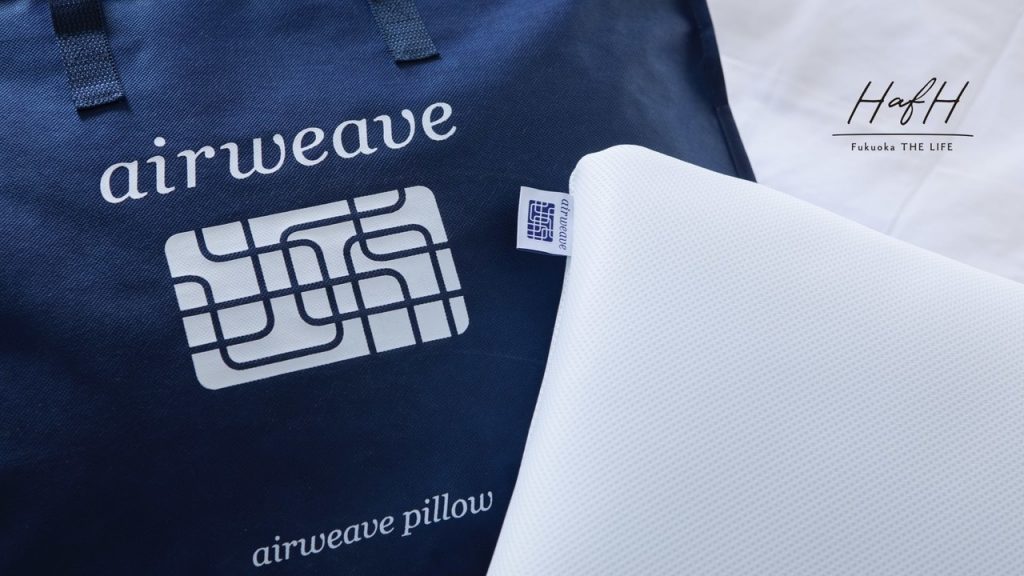 To book directly, these original HafH rooms only cost ¥3,600 making them extremely affordable. For HafH Neighbors (members), you can book these through our website for no added cost. There are 10 of these rooms, so you'll automatically be put in one these rooms (providing they're available). You don't even have to use any HafH Coins! When you're coming to visit Fukuoka, please come and enjoy HafH's premium dormitory!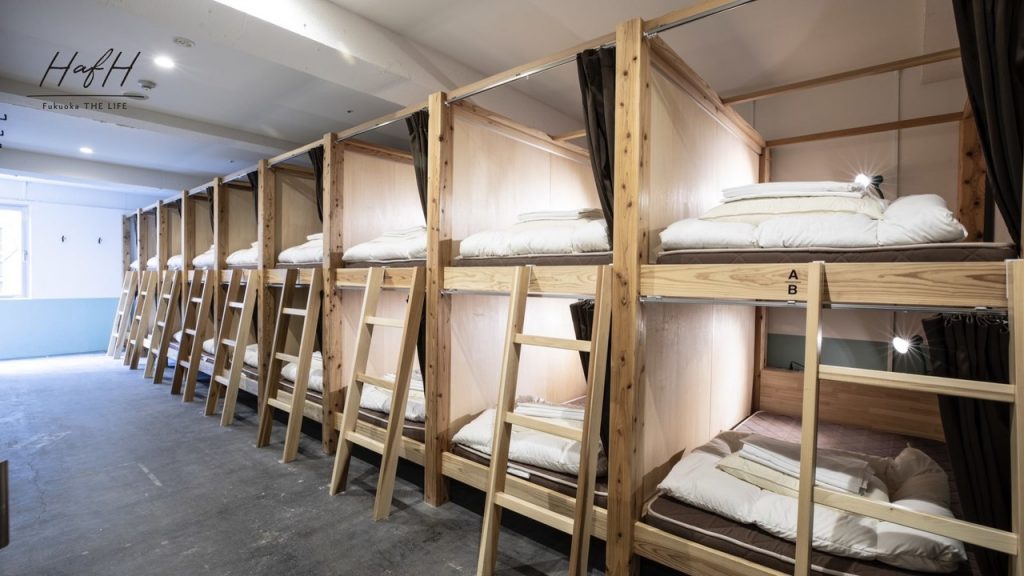 Regular dormitory style beds can be book for an easy ¥2,600 per night. We have mixed gender rooms and female only rooms available. Inviting artists from other prefectures and also from overseas, we will be holding our "Artist in Residence" project in these dormitories. Check out our previous articles on the Topics page to see a short video and some pictures from past Artist in Residence projects.
。Artists from outside Fukuoka (other prefectures and overseas) coming to Fukuoka can stay at HafH Fukuoka THE LIFE for free by holding an exhibition of their work, creating artwork live, and doing an art installation in the facility. (1 month maximum stay.)

This is without a doubt a first for a hotel in Fukuoka! If you know any artists, please let them know about our Artist in Residence project and ask them to get in touch with us!
② Rent-a-cyle service inside our facility – A rarity in Fukuoka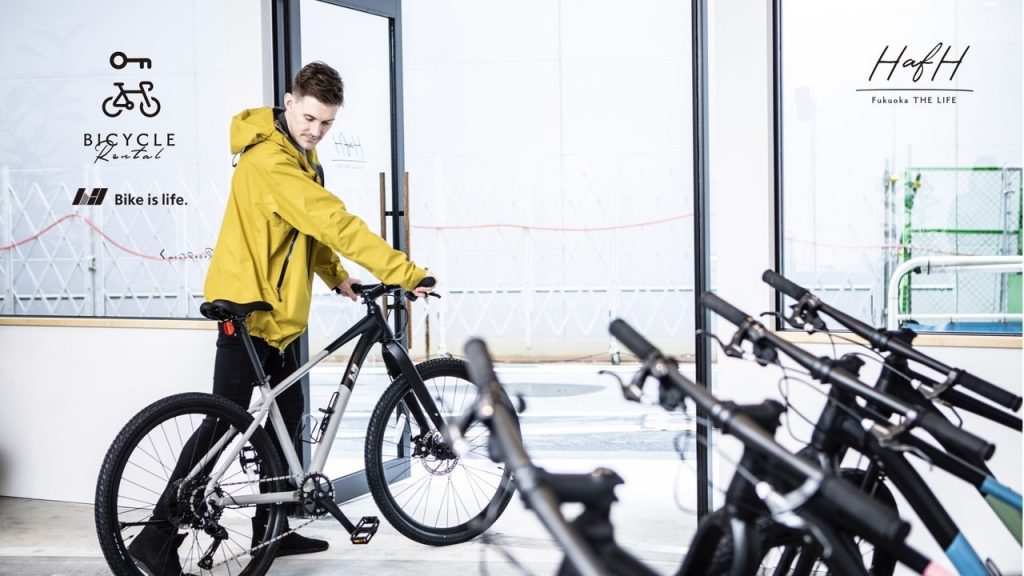 Fukuoka City is putting a lot of effort into getting people back on bicycles, through town planning, and are moving forward with creation of bicycle only lanes and share cycle services! Even still, Fukuoka has a lack of bicycle rental services. On searching the net myself, HafH Fukuoka THE LIFE is the first hotel in the city to offer a rental bicycle service. We currently have 5 bicycles available for rent.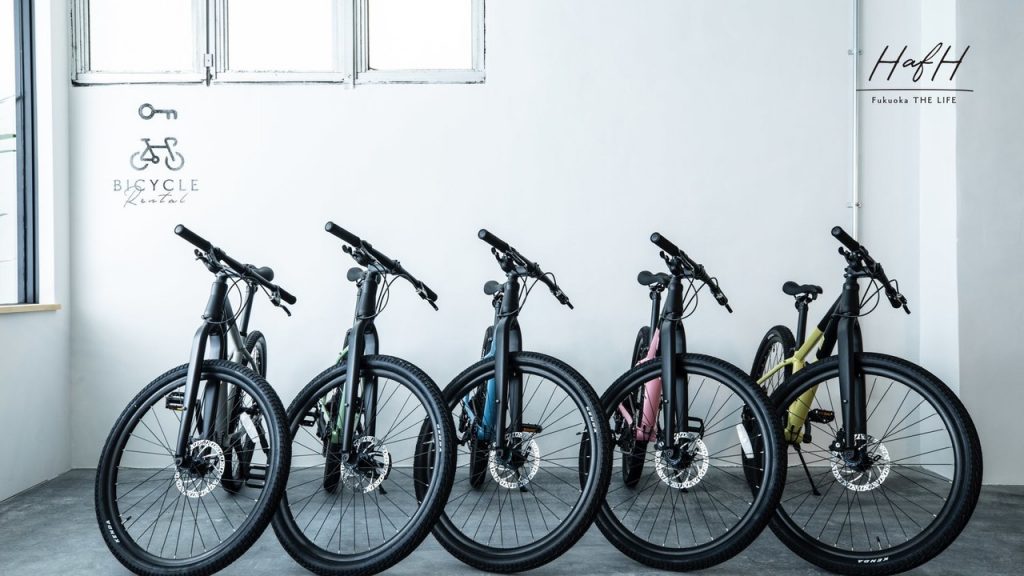 We have bicycles of different sizes to suit both men and women. Prices start at ¥500 for an hour, ¥1,000 for 3 hours, ¥1,500 for 6 hours and ¥2,000 for the day. These aren't just your run of the mill bicycles either, they're actually kinda rare!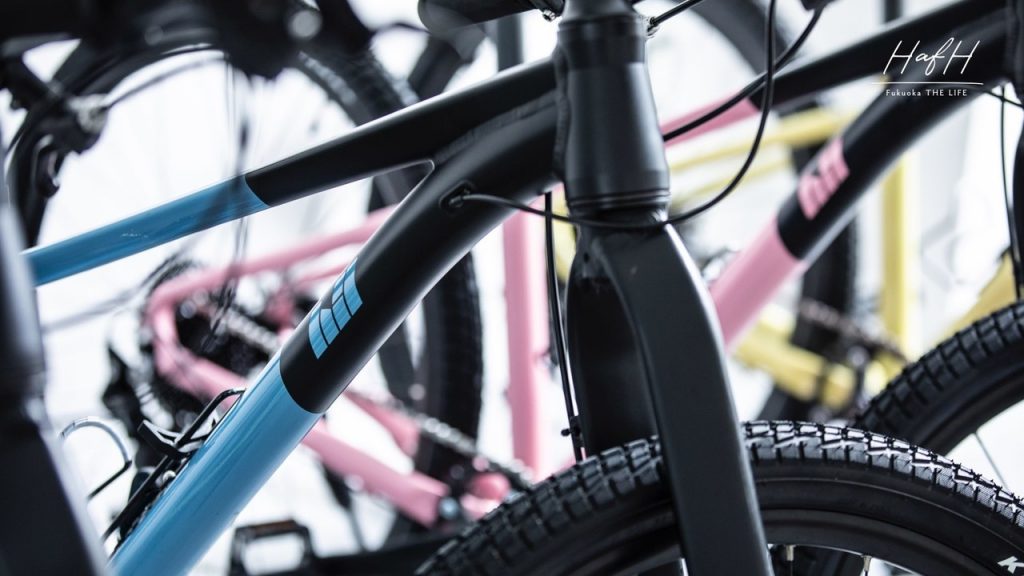 For the casual city cycler to the bicycle lover – these bicycles are for all!
A fast bicycle that's also comfortable to keep on using
Feel the wind in your hair while you explore Fukuoka – these sports bikes are for everyone. The bicycles are sturdy and easy for first timers to find their balance, but have also been custom designed so that they can be used for longer bicycle travel, racing, etc. as well! They have also been created using a similar style frame to a mountain bike which means they excellent durability. Finished with matt and gloss coloring, these bikes also just look so darn good, whether in the city or out in nature!
The bikes are from Bike is Life, a business created by Fukuoka local and former national cross country representative Daigoro Yamada. These pro bicycles go for around ¥128,000 (not including tax), so they certainly aren't cheap, but when you take them for a spin, you'll definitely feel the difference. Prefect for riding around town, Mr Yamada says that he would use these bikes himself to compete with in competitions. From just one coin, you can try them out for yourself at HafH!

For more details about the bicycles themselves, see 「Bike is Life」(currently only available in Japanese language)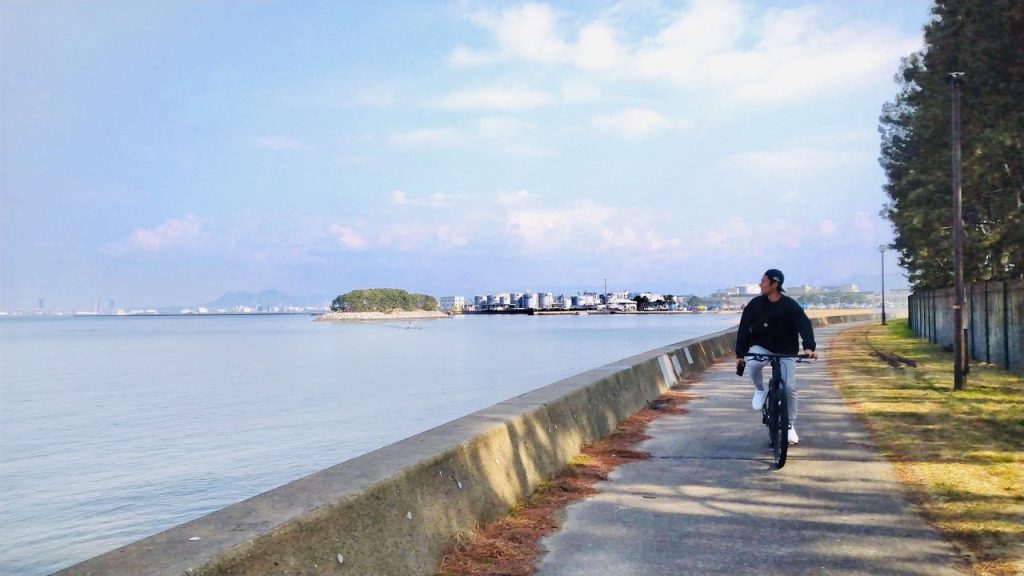 I took a bike out for about 3 hours. The seats are properly cushoned, so my butt didn't get sore at all! I rode by the sea, through parks and around town. Bike is Life bicycles are a fantastic way to explore a compact city like Fukuoka!
Of course, bicycle enthusiasts traveling on their own bikes are more than welcome to come stay at HafH Fukuoka THE LIFE too!! We have a rack inside the facility and can take care of your luggage.
③ Installation of a prayer room
These days, prayer styles are becoming more modern, and many people choose to pray in their own way! It seems that many Muslims also use apps to find out direction, pray in their own rooms, etc. too! So, to be honest, we weren't sure if we should set up a prayer room or not. However, we want to be able to accommodate a diverse range of people, so while it's only small, we created one! We are also working on a halal menu and a vegan friendly menu as well. HafH is for everyone, regardless of race, nationality, gender, sexual preference, religion, etc. so we will keep on working to make our facilities a Home away from Home for everyone!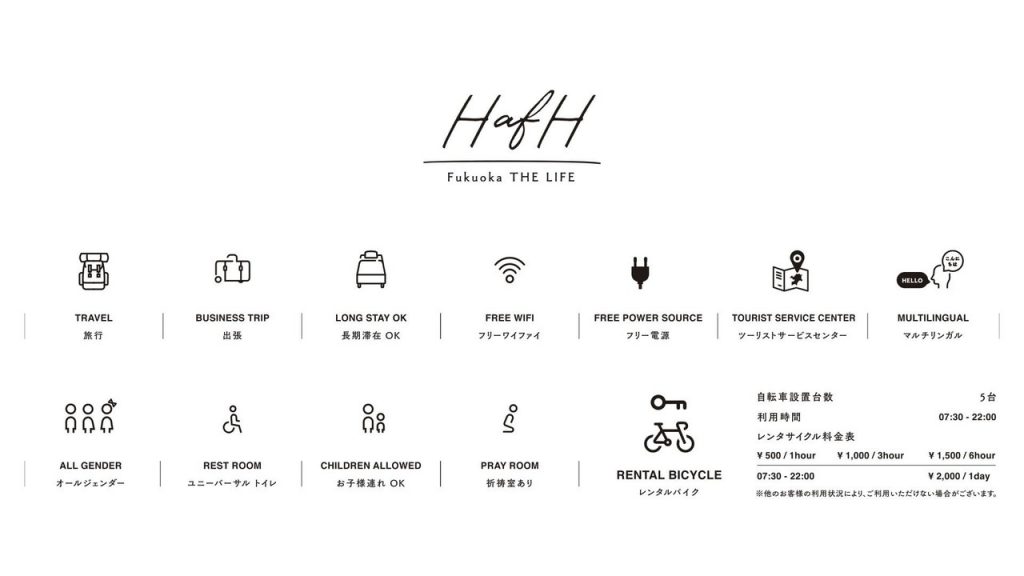 We are also All Gender friendly, and have facilities to reflect that as well. Every year Fukuoka City hosts the Fukuoka Rainbow Parade and we are an openly LGBTQ+ friendly facility. We will do what we can to be open and facilitate all people.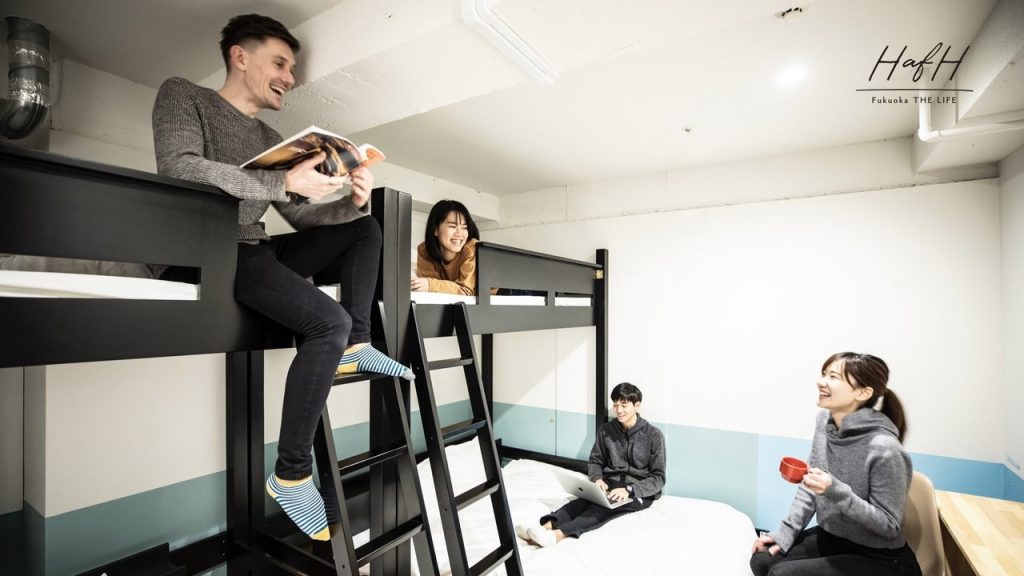 "Diversity is great, but I'd also like to just stay with my family" is something I also here. Of course, we are also happy for families to come stay too! Which is why we've created a family room where children are also welcome to stay.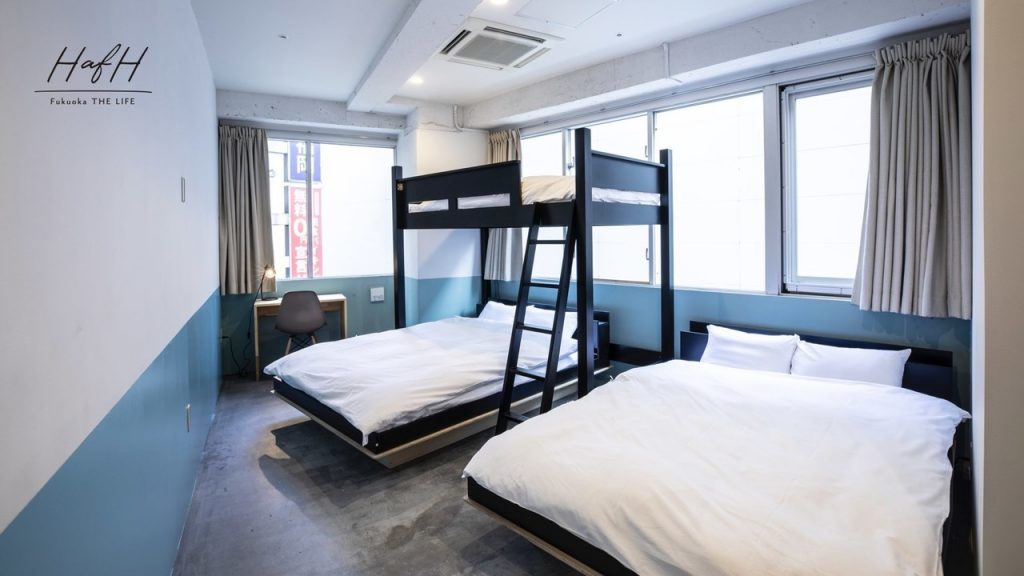 We have 5 rooms capable of accommodating groups of 3 to 6 people. Families and those traveling in groups are very welcome to use these rooms.
Also, if you find yourself in the situation where you had a bit too much to drink the night before (that's a big possibility in Fukuoka), then you can extend your check-out time to 11am for ¥1,000.
For those traveling alone on business trip with sensitive documents who'd prefer to have a private room, we've got you covered too! HafH Fukuoka THE LIFE has 10 double to queen size rooms. HafH Neighbors can book double rooms by using HafH Coins – 1 night costs 100 HafH Coins. Check in until 2am is possible, so don't stress if your flight is running behind schedule.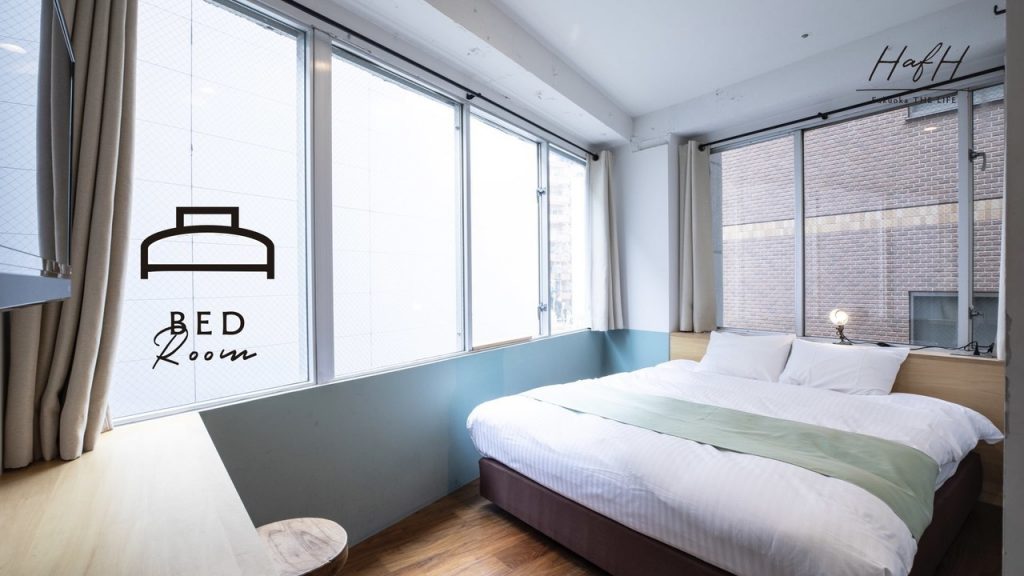 Pictured: Queen size room – prices start at ¥8,600 per night. These rooms also have their own private shower and toilet. Double rooms start at ¥7,400 per night. Please note that prices are subject to change.
The Café & Bar area at Fukuoka has the high standard coffee quality that HafH Nagasaki is known for, plus our brilliant young chef prepares incredibly delicious food.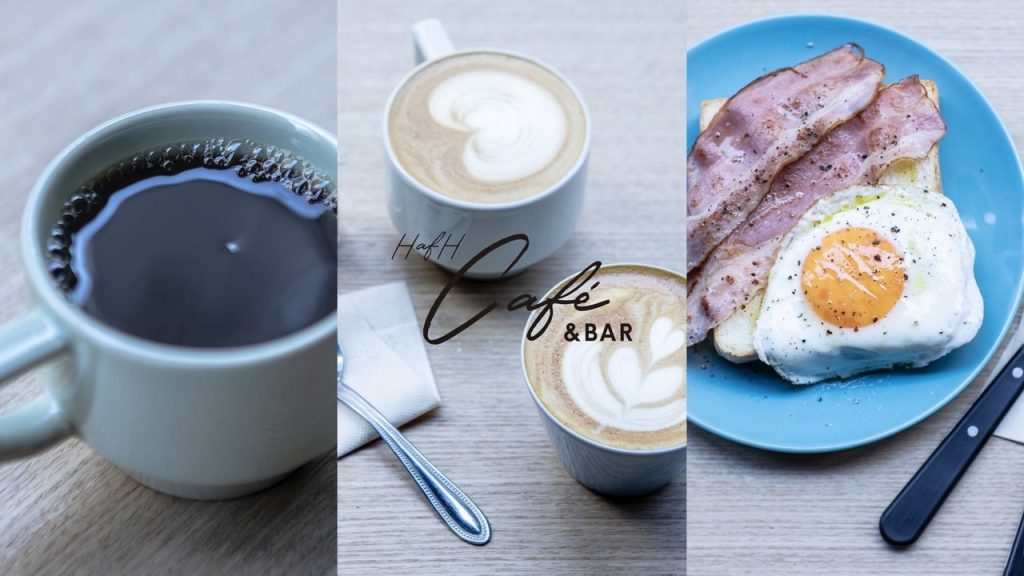 Even the dishes and cups have been carefully selected. Just as at HafH Nagasaki, we use Hasami-yaki style ceramics created by Maruhiro in Hasami, Nagasaki. The simple yet refined design matches the feel of HafH perfectly, and all the crew really love the design too!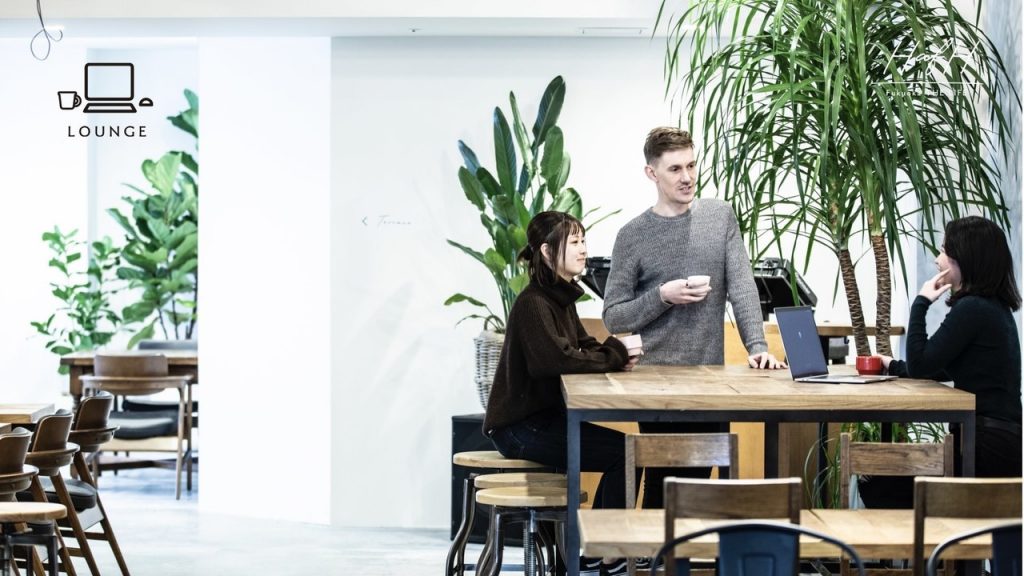 We really look forward to you coming to visit us at HafH! Make the most of the café/bar and 1st & 2nd floor lounges to get some work done, relax, or meet fellow guests. Wi-Fi is of course available in all areas.
On the first day we opened, we had a friendly visitor from Korea come and stay with us. We had a conversation in the bar, and our Korean staff at THE LIFE was a huge help with communication.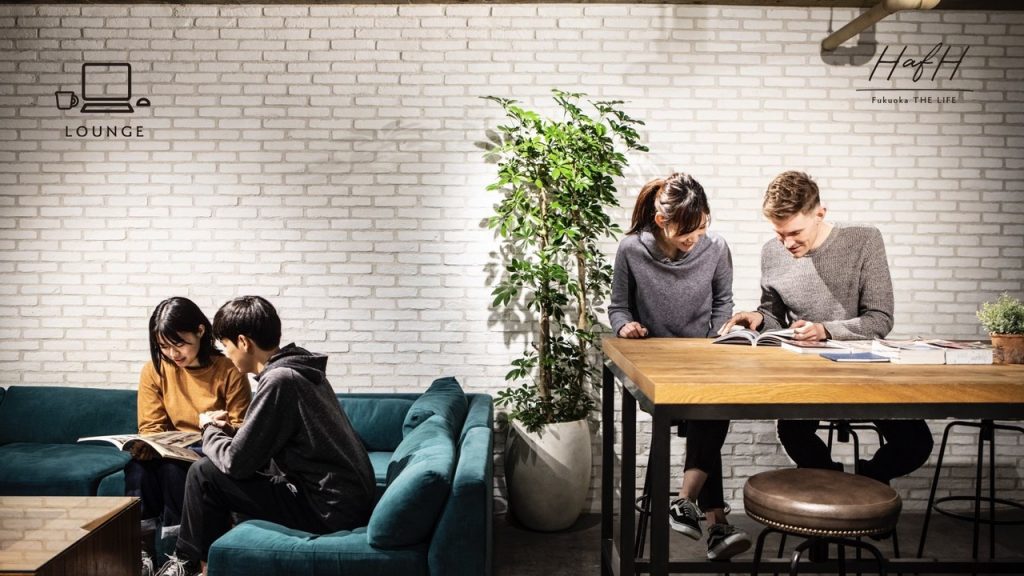 A view of the 2nd floor lounge. Enjoy a quiet book or whip out your laptop. The lounge on the 2nd floor is a guests-only area, so it's a great place to chill and get better acquainted with other guests. There's also a small kitchenette available for use, so you can do some simple cooking if you like too!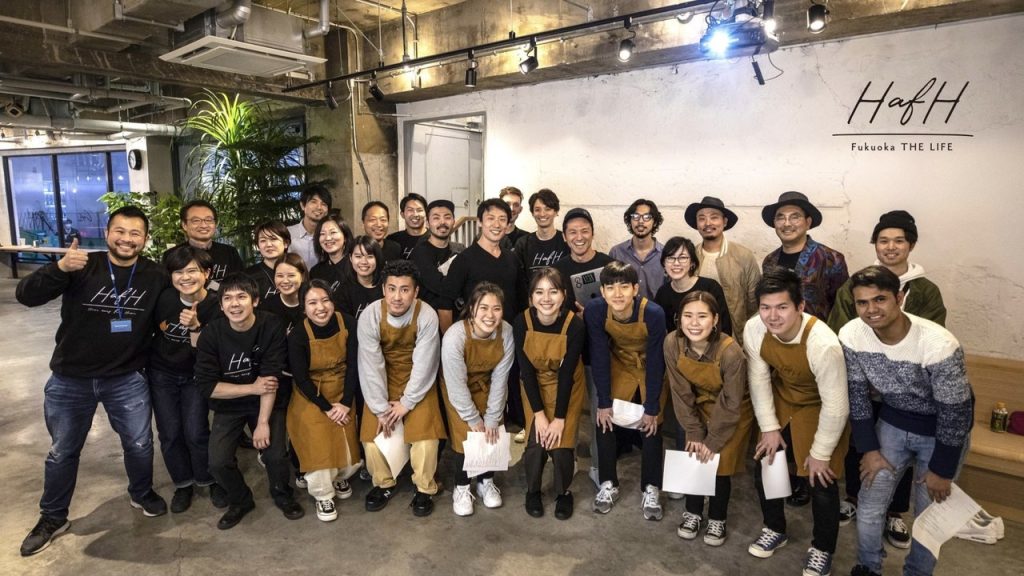 Staff at THE LIFE have been carefully selected from over 100 applicants. Many of the staff have lived overseas before and some of the staff are foreign residents in Japan. They are friendly and always smiling.

If you are in the area, grab a coffee, and use HafH Fukuoka THE LIFE as a place to study or concentrate on some work, as a place to meet up with friends, or simply as a place to take a break.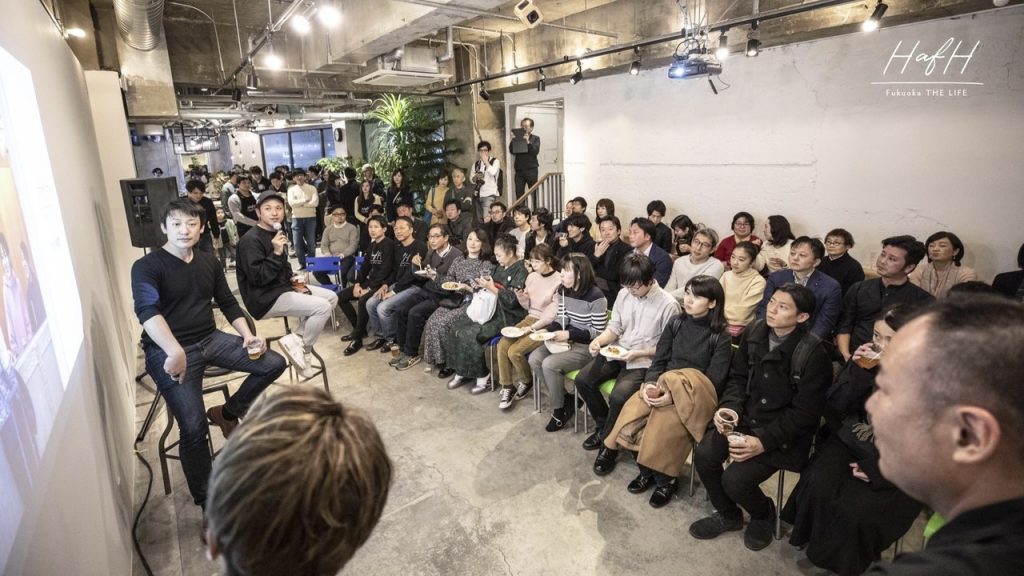 Even amongst the current decline in tourists from Korea and China, and the onslaught of coronavirus around the world, we still had almost 150 people join us for the opening day celebration! We truly appreciate the wonderful people around us and will endeavour to make HafH Fukuoka THE LIFE the kind of place where people want to come and hang out at!