Subscription coliving service HafH extending the possibilities of the remote work lifestyle. HafH is now available in 100 cities in Japan and 50 overseas cities!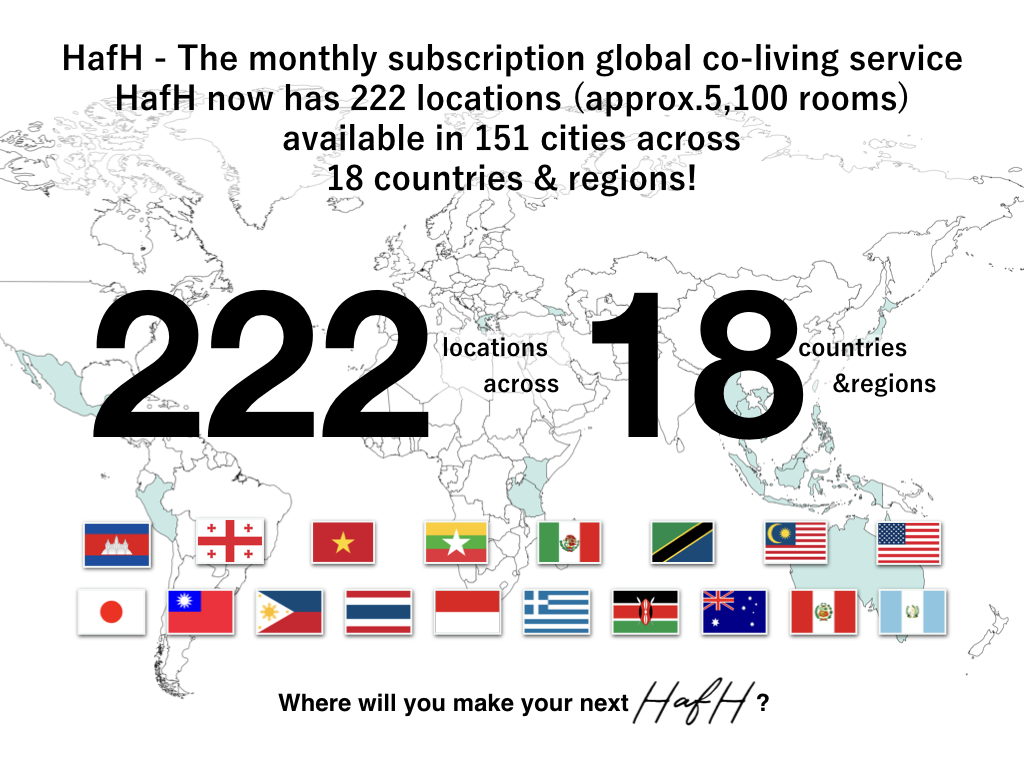 HafH is a subscription coliving service that offers places to live and work from for a fixed monthly fee, with facilities in 151 cities across 18 countries and regions. Already one of the biggest coliving services in the world, we plan to increase our network to 500 facilities during the 2020 Japanese financial year. Furthermore, from April 2020, we will begin field testing to provide total solutions services for work style reform to corporations – a first in Japan.
KabuK Style Inc. (Co-CEOs Kj Sunada and Ryo Osera) started its subscription coliving service HafH in April 2019 with the goal of making the service available in all 47 prefectures in Japan plus 50 overseas cities within a year. With a month still to go, that goal has been smashed, with HafH now available in 151 cities (100 across all 47 prefectures in Japan, and 51 overseas) across 18 countries and regions.
For more information on the newly added facilities, click on the link below, or head to our Topics page.
https://hafh.com/topics/4989
Countries that members can access HafH in (as of February 26, 2020)
JAPAN
・All 47 prefectures (100 cities)
ASIA PACIFIC
・Indonesia・Thailand・Taiwan・Malaysia・Vietnam
・the Philippines・Myanmar・Cambodia・Australia・USA (Hawaii)
EUROPE
・Greece・Georgia
AFRICA
・Kenya・Tanzania
CENTRAL & SOUTH AMERICA
・Peru・Guatemala・Mexico
Regarding plans to make HafH available in 500 cities by March 2021
To make HafH available in all areas of the Asia Pacific region

We plan to have facilities in Singapore, Brunei and Laos, expand into South Korea, China and India, plus increase the number of HafH facilities in more cities across Australia.


Vigorously expand our network in Europe

We are in the middle of creating our organisational structure for expanding into the European market and are focusing on having locations in big name cities in Europe.


Gradual expansion into other regions

Continuing to find partner facilities that match HafH quality standards, we hope to expand into other regions including North America.
Also, as previously announced, we will start field testing our work style reform total solutions service for corporations from April of this year. We will have an information session about our new service on March 4th.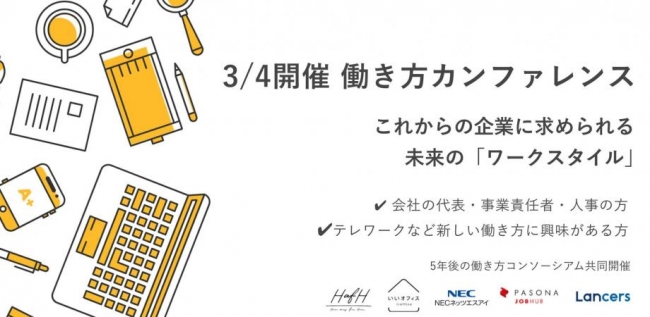 How can a business create a work environment that allows employees to work without forcing them to come into an office? How will employees spend the time that this frees up? What kind of stance should business take on employees considering to take on a side/second job? Answers and solutions to these questions, plus detailed information on our new services will be announced on March 4, 2020.

Due the current novel coronavirus situation, we are planning to live stream the event, however please be advised that this may change.
Date Wednesday, March 4, 2020 @ 6:30pm
Host: Working Styles of the Near Future Consortium
(Details for the Consortium can be found on the link below)
URL:https://new-work-style.peatix.com
PR TIMES Press Release (Japanese Language Only)
https://prtimes.jp/main/html/rd/p/000000031.000039388.html
Facebook Page (Japanese Language Only)
https://www.facebook.com/NewWorkStyleProject/
Comment from KabuK Style's
Co-CEO KJ Sunada
Among the debates move between simple time management/restraints to the development of a company versus the fulfillment of employees, work style reform is calling for a society where a diverse range of work styles that suit each individual are accepted and appreciated. In fact, this year there is a large focus on "remote work" (employees working from places other than in an office) and on "workation" (a vacation that allows you to work remotely with elements of leisure that allow you to unwind, relax and be more productive). Through our Working Styles of the Near Future Consortium, we at KabuK Style will be the first in Japan to offer total business solutions to corporations, and in doing so, will help contribute to creating a society where work style diversity is the norm.
<Company Profile>
Company Name: KabuK Style Inc.
Representatives: Co CEOs KJ Sunada & Ryo Osera
Established: February 5, 2018
Capital:  JPY466 million
(Capital and capital reserve as of the end of January 2020)
Business Description: Operation and management of subscription
coliving service "HafH", Travel agent
▼HafH can be found in the following regions as of February 26, 2020
DOMESTIC: All 47 Prefectures of JAPAN
OVERSEAS: Australia・Indonesia・Thailand・Taiwan・Malaysia・
Vietnam・the Philippines・Myanmar・Kenya・Tanzania・
Greece・Peru・Guatemala・Mexico・Georgia・Cambodia・
USA