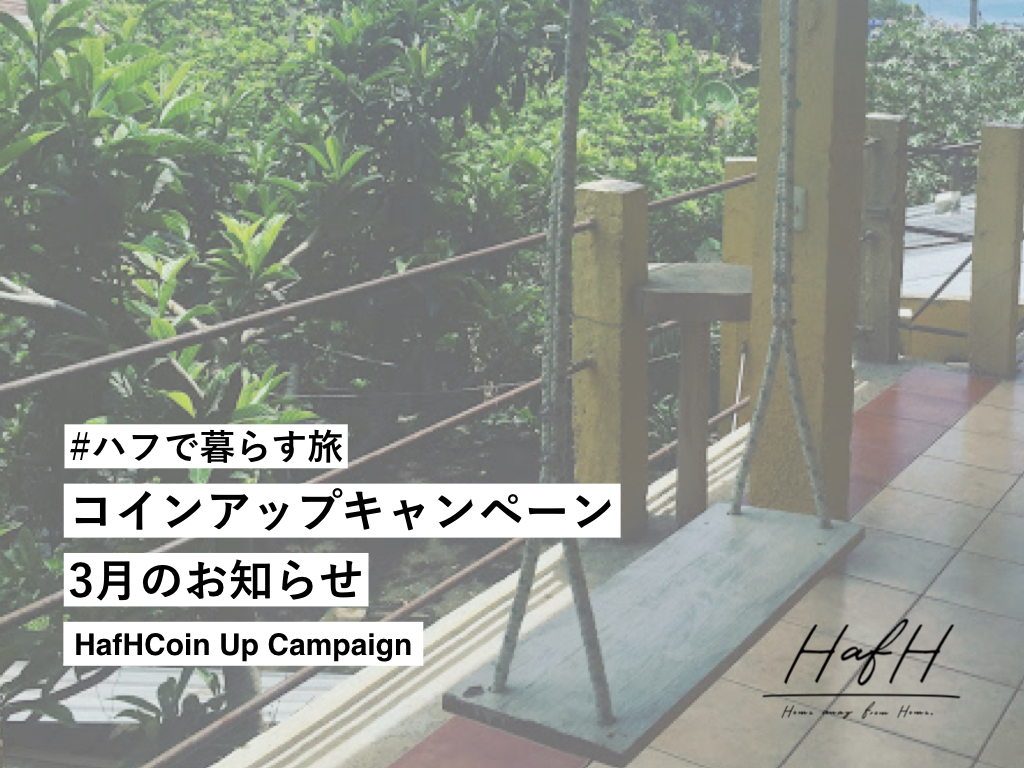 This is our 3rd Coin-Up Campaign!
Neighbors who rank in the top 50 for their usage of HafH's network will be presented with bonus HafH Coins.
Ranking will be based on usage between: March 1 ~ March 31, 2020
You can use your HafH Coins to upgrade your room!
Just as in previous coin-up campaigns, you can increase your chances of jumping up the Neighbor ranking by staying at HafH on weekdays and staying at this month's bonus facilities!
The list of bonus facilities for March as listed below! 
Target Period
Be rank in the top 50 for your HafH usage between March 1 ~ March 31, 2020
Bonus HafH Coin Amounts
1st: 300 HafH Coins
2nd-10th: 250 HafH Coins
11th-20th: 200 HafH Coins
21st-30th: 150 HafH Coins
31st-40th: 100 HafH Coins
41st-50th: 50 HafH Coins
The bonus facilities for March focus on the following regions
JAPAN: Tohoku Region
OVERSEAS: Central and South America
As the cold weather is starting to let up, now is the perfect time to visit Japan's Tohoku Region!
Café&Guesthouse Akariya (Gunma Prefecture)
C-style inn Soma34 (Fukushima Prefecture)
C-stella inn Soma72 (Fukushima Prefecture)
Onsen Guesthouse Yukori (Fukushima Prefecture)
LODGE TANDEM (Iwate Prefecture)
GLAMPiC Guesthouse(Yamagata Prefecture)
Guesthouse Proof Point (Hokkaido)
Guesthouse Cock-a-Doodle-doo (Hokkaido)
Sakusak House (Greece)
Ten to Ten Puerto Vallarta (Mexico)
Casa de Kamomosi (Guatemala)
Oyado Sakurako(Peru)
Enjoy your life journey!